One of the job titles we have at the Ranch is case manager. Our case managers are highly trained and educated professionals who do so much more than their title implies.
According to the Case Management Society of America, case management is "a means for achieving client wellness and autonomy through advocacy, communication, education, identification of resources, and service facilitation."
In practice, Case Managers at Dakota Boys and Girls Ranch are connectors—the glue that holds everything together while a child is in treatment at the Ranch. They bring together the Ranch treatment team, the child and their family, and county or Department of Juvenile Justice caseworkers; to ensure everyone is moving in the same direction and that the children and their families have a voice in their treatment.
Here is a full list of what Case Managers really do—which illustrates why Case Manager is too narrow a title.
Connect with kids;
Connect with families to update them on their child's progress, bring their thoughts and suggestions to the treatment team, and alleviate their concerns;
Connect families with community resources they can access when their child transitions home;
Participate in treatment team meetings (therapist and psychiatrist, along with representatives from nursing, occupational therapy, spiritual life, case management, and wellness) to discuss the individual needs of each child;
Participate in Clinical Case Review Team meetings (which includes the Ranch treatment team, child, parent or guardian, county caseworker, and any other important people in their life) to involve them in creating goals and strategies; and to ensure we are meeting the child's treatment goals;
Write and update treatment plans;
Arrange home passes;
Document everything in the child's electronic health record; and,
Anything else that comes up during the day!
Because of the nature of each Ranch facility, each case manager's job is a little bit different, especially between case managers working in the different types of residential facilities operated by the Ranch—Psychiatric Residential Treatment Facilities (PRTF) and Qualified Residential Treatment Programs (QRTP).
Our PRTFs provide the highest level of non-hospital psychiatric residential care available for children and adolescents. Multi-disciplinary teams provide specialized programming and therapy for children with chronic psychiatric and behavioral issues. A relatively new trend is for most of the children at the PRTFs to be parent-referred, so the case managers work very closely with the parents. Note: When you see "family" or "parent" used in this article, know that it includes children's biological families, adoptive families, guardians, foster families, or "fictive kin," (non-biologically connected people who support and care for the child).
Our QRTPs are located in Minot and Fargo. The QRTP level of care (also known as group foster care) is for children who need a safe place to live, along with supportive services. Most of the children in the QRTPs are referred by the county (now called zones) or the Division of Juvenile Services, and the kids are less apt to have a stable place to live when they leave the Ranch. In these cases, Case Managers work closely with the child's caseworkers and guardians. Sometimes foster or adoptive parents are involved, so they are encouraged to participate in the child's treatment.
Emmi Albrecht
Case Manager, Minot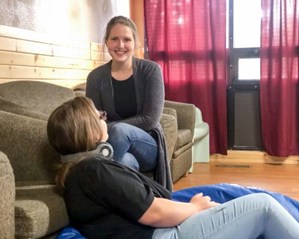 As one of our newest Case Managers, Emmi Albrecht works in Butt Cottage, caring for girls ages 10–17. She has been working with kids since she was 16 when she had a job in a daycare center. As soon as she was eligible at age 18, she started working with kids with developmental disabilities; and when she completed her bachelor's degree in Social Work and Psychology from the University of Mary, Bismarck, ND, she took a job with the Ranch.
Emmi said the biggest change she sees in kids during their time at the Ranch is in their confidence. "These kids have so many emotions they don't know what to do with. Watching them learn those skills is honestly amazing," she said.
While having eight preteen and teenage girls in one place makes for lots of ups and downs, Emmi says the girls are usually able to identify why they are at the Ranch and are willing to accept they have things they need to work on.
The hardest part of the job is hearing the kids' stories. "You hear things from these girls that you would never expect to hear from a 12-year-old," Emmi said.
Emmi is the main point of contact with the girls' parents. She sees how hard it is for parents to have their children at the Ranch and wants them to know they can always reach out to her to get the information they need, or to just be reassured that their child is OK.
"They are just parents who want what is best for their kids," Emmi said. "We see a lot of parent placements where parents feel like their child is unsafe in their home, or like they can't provide what their child needs. It's hard. A parent told me yesterday that as hard as it was to place her daughter at the Ranch, she is glad she is in a safe place."
"We are doing some amazing work with these kids," Emmi said. "They are struggling, and we are able to help. Getting help for mental health issues is underrated and we don't talk about it enough in our society. It's great these kids are getting help as early as they are, because not a lot of people get that."
Emmi lives in New Town, ND, and drives an hour each way to work. When she isn't at work or on the road, she enjoys spending time with her significant other and their families. She also loves animals and has both a dog and a cat.
Dawn Moreau
Case Manager, Minot
Dawn Moreau grew up in Massachusetts and made her way to North Dakota through the military. While raising her four children and working as a tutor, Dawn's supervisor encouraged her to go to college. She started working as a Youth Care Worker at the Ranch while going to school, and graduated with a bachelor's degree in Social Work from Minot State University, Minot, ND.
One of Dawn's own children went through residential treatment. She said the people who worked with her daughter were amazing and she tries to provide that same level of care for children at the Ranch.
Dawn works in Seegers Cottage, caring for boys ages 12–18. When asked about the parents of these boys, Dawn says they are varied. Some are biological parents, some are foster parents, some are grandparents as parents.
"The one thing they all have in common is that they love their kids and are doing their best," Dawn said. "Everybody's best is different, and we have to meet them where they're at, just like we do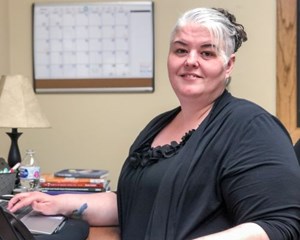 with the kids. We tell our boys that what happened to them isn't their fault and it isn't fair. But from here they have to make choices to take control of their lives. Sometimes we have to do the same thing for the parents—teach them to love themselves despite what might have happened to them and then encourage them to make different choices moving forward."
Dawn said it's always best for parents to be involved in their children's treatment because kids always love their parents. "No matter what happened—even if they were abused or neglected by their parents—kids love their parents," said Dawn. "There is a saying, 'An abused kid doesn't hate the parent. They hate themselves.' We teach parents and kids to love themselves despite what might have happened to them."
As for the kids, Dawn said, "The boys in Seegers Cottage are great kids. You can tell they really want to be loved and they want to do well. They just haven't had a fair shake until now. It is such a joy for me to come to work every day and to spend time with them. They are all very unique in their personalities."
Dawn enjoys watching them make progress. "We had one boy whose dad had custody of him, and he didn't want to even work at building a relationship with his dad," Dawn said. "He discharged and when he came back to the Ranch, through no fault of his own, it was just amazing to see how connected he was now with this dad. Every one of these boys is worth investing our time and money in."
Dawn likes to be outdoors and listen to music. She spends her summer weekends camping.
"I've lived all over, and whenever I move somewhere I like to play tourist. I have a North Dakota map on the wall of my office and when the boys come in, they like to give me ideas of where I should go next."
Katelyn Hanson
Case Manager, Fargo
Katelyn Hanson is the girls' Case Manager at the Ranch's Al and Johnne Bierdeman Center for Hope and Healing, the PRTF in Fargo.
Katelyn started at the Ranch seven years ago as a Youth Care Worker. She worked her way up to Case Manager and stays because of the kids.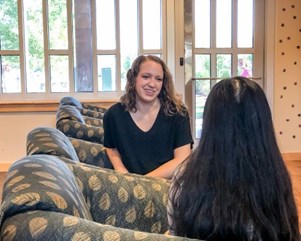 "Our kids come in with so many challenges. Their trauma stories are just crazy. People think they are here because they are bad and that is just not the case. If these kids could, they'd all do great," Katelyn said. "They just don't have the skills and abilities to do that yet—and that's why they are here. You can see how resilient they are—they are willing to try to overcome all of those things and they can bounce back."
When asked to share a specific story, Katelyn recalls a resident who was at the Ranch a couple years ago. "She was very defiant, very oppositional, and she just didn't want to follow our expectations and rules," Katelyn said. "She could get away with anything at home and didn't like the structure here."
Over time, the young girl realized that we held her to our structure and rules because we cared about her.
Katelyn said, "One day she was in tears and said to me, 'Why do you care so much? I'm doing all these things so you'll get away from me, and you don't leave.' I told her, 'Because I know you don't mean it. I know you're telling me that right now, but if I walk away, you'll think I'm leaving you and that I don't care. So, I'm staying, and when you want to talk, I'm ready.' That's how we show we care."
Katelyn has a bachelor's degree in Psychology, with a Criminal Justice minor, from North Dakota State University, Fargo, ND. When she's not at work, Katelyn likes to spend time outdoors. She and her husband enjoy fishing both in the summer and the winter. She also enjoys coloring, drawing, and arts and crafts. And by the end of 2021, she and her husband will be enjoying everything that comes with having their first child!
Natasha Holwegner
Case Manager, Minot
When Natasha completed her bachelor's degree in Sociology with a minor in Psychology and Gender Studies at Minot State University, Minot, ND, she worked at a daycare center, and then had the opportunity to take a job at an oil and gas pipeline company. It wasn't related to her degree, but she made good money and gained some management experience.
"Putting pipelines in the ground wasn't really fulfilling work for me, so I substitute taught while figuring out what I wanted to do. I needed a summer job, so I came to the Ranch to be a Youth Care Worker, 'just for the summer.'"
Five years later, Natasha is still at the Ranch, now as a Case Manager in Cornelsen Cottage, caring for boys ages 10–14.
"I fell in love with the Ranch and my Cornelsen boys. I loved it too much to leave," Natasha said.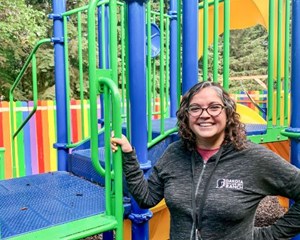 As a Case Manager, Natasha works with the Ranch treatment team, parents, guardians, and the kids themselves to create individualized treatment plans for each child.
Natasha said, "When creating treatment plans, we always have them boys put the goals in their own words. If their goal is to have positive peer interactions, they might say, 'I want to make friends.' If they have an issue with aggression, they might say, 'I don't want to be as angry.' They get pretty basic. One of my boys said, 'I won't punch people with my fists.'"
Once the treatment plan is in place, everyone at the Ranch works together to help the kids meet those goals, and Natasha said the work happens all day every day.
"So much of the work happens through staff interventions," Natasha said. "Therapy, OT, case management, and everything else is huge, but it's in the day-to-day interactions with the kids where direct care staff [Youth Care Workers] are helping the kids practice the skills they've learned, holding them accountable, and modeling appropriate behavior. They really get the kids to a place where they can comply to the rules and have healthy interactions."
Natasha's most memorable resident was a young boy who had Reactive Attachment Disorder (RAD), a rare but serious condition in which an infant or young child doesn't establish healthy attachments with parents or caregivers. RAD may develop in situations of abuse, neglect, or other types of early childhood trauma.
"When this boy came here, he was super aggressive and couldn't establish any relationships with his peers or staff. He fought us helping him in every way. He went from being a kid who created chaos everywhere, to being one of the most likable kids we've ever had. He got his anger and aggression under control; and he learned to trust us and connect to others. He discharged to a foster home two years ago and is doing well."
Natasha has a message for Ranch donors. "These are just little boys and they are so down on themselves. With the donations we receive, we give them a second chance so they can start a new page of being healthy, getting their mental health issues under control, and being able to just play."
Natasha has a 16-year-old daughter, two cats, and a dog. She and her husband enjoy camping and attending their daughter's track meets and other sports events. She also plays in volleyball and golf leagues to keep herself active and social.
Rachael Kary
Case Manager, Fargo
Rachael started at the Ranch as an intern while she was in the Social Work Program at Minot State University, Minot, ND. She interned on the Ranch's Bismarck campus and didn't want to leave when she graduated from college.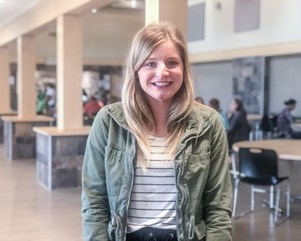 "I fell in love with the role of case management at the Ranch, but there wasn't an open position when I graduated," Rachael said. "I was really passionate about the kids and wanted to find a way to stay at the Ranch. At that time, the only way to do that was to start as a Youth Care Worker."
When a case manager position opened at the Al and Johnne Bierdeman Center for Hope and Healing, the PRTF in Fargo, she got the job and moved to Fargo where she is the boys' Case Manager.
And now, Rachael says, "I don't see myself working anywhere else."
Rachael wants people to understand the beauty and potential of children at the Ranch.
"People automatically assume the kids who come to the Ranch are naughty, and that's not the case. They have these significant mental health issues and they're not able to advocate for themselves," Rachael said. "We see the individuals underneath this messy exterior—kids who are trying to find out who they are while also overcoming some horrendous things that happened in their lives."
She is also passionate about involving parents in their child's treatment. "I've met some great parents over the years. They are doing everything they can just to manage until we can get their child in the door. One of the most important things I can do is to make sure the parents feel valued. They are still the parents, and at the end of the day, they need to be involved in every decision about their child."
When asked about specific children, Rachael recalls a boy who had pretty much grown up in hospitals and residential treatment facilities. When he came to the Ranch at age 14, he was very low functioning—he was unable to dress himself, use the bathroom, or build relationships with others.
"Everyone had given up on this kid," Rachael said. "The state was talking about state hospitalization and he wasn't even 18 yet. That just broke my heart. To think that we were already planning for the rest of his life—I just couldn't fathom it."
By the time this young man discharged, he had left a lasting mark on the Ranch, and everyone involved in his treatment.
"He always brought a smile to everyone's face. He was notorious for his knock-knock jokes and the nicknames he gave everyone. He overcame so much while he was here."
Despite all of his progress, this young man had no options for discharge.
While our typical stay is 4-6 months, he was at the Ranch for nearly two years while Rachael, his therapist, and many others worked with the state of North Dakota to find a place for him.
Rachael said, "Towards the end of his stay with us, it was hard not to become defeated. We all just wanted this kid to have a forever home. In the end, we discharged him to a family member, which we never in a million years thought possible.
"An aunt came forward and said she'd love to have him. When we told her about his needs, she said, 'I'll do what I have to do.' We started having collaborative meetings with her and his county worker, set up aftercare services and supports, and he discharged to her home. We heard a few weeks ago that he continues to do well."
When Rachael isn't at work, she watches movies, reads books, travels, and surrounds herself with friends and family. She feels very supported in her role as Case Manager, both by her family and by the Ranch.
"I know so many people who just work to work," Rachael said. "I'm so lucky because this is something I'm truly passionate about. Yes, it's challenging and heartbreaking, but it's also so rewarding and brings me joy."
Tammy Moreno
Case Manager, Fargo
Tammy Moreno is the Case Manager at the Fargo Youth Home. 
While attending Minot State University, Minot, ND, Tammy interned at the Ranch. After graduating with a bachelor's degree in Criminal Justice, she moved to the east coast where she worked in a similar facility. Now, after 17 years at the Fargo Youth Home (as Youth Care Worker, Supervisor, and now Case Manager), she says, "There's just nothing like the Ranch. We're just one big family. I enjoy the people I work with, and I love the kids. That's what brings me back every day."
Tammy sees her job as being a voice for the children in our care. "Most of our kids have gone through a lot of trauma and they don't have anyone on their side. I am there to support them, advocate for them, and help them get to a positive place in life."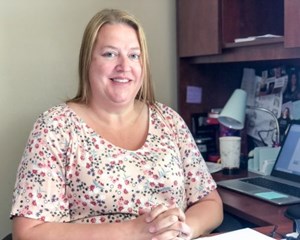 Working at the QRTP level is much different than the PRTF, in that there are fewer parents involved in their child's treatment. "A lot of them had their parental rights terminated. And many times, it happened at such a young age that these kids don't know their parents," Tammy said. "In other cases, the parents have limited contact due to their life circumstances."
When parents are involved, Tammy does everything she can to make sure they are engaged and part of the treatment process. "Sometimes the families just don't have the tools to help their child because they, too, have gone through so much," Tammy said.
"In other cases, we are working with adoptive parents who want the best for their children and are willing to do whatever they can to get them on the right path and back in the home. We provide the families with knowledge and tools to help them with their child once they are back in the home."
Tammy recalls one resident who spent time at three Ranch facilities—Minot, Fargo PRTF, and the Youth Home.
"He didn't have anyone," Tammy said. "He was pretty quiet and didn't really like talking to staff. He was very angry, he didn't trust anyone, and he didn't like to do much. When he transitioned from Minot, they told us he was suicidal and that he had given up all hope."
Tammy said they went through a lot with this young man while he waited for a foster home. Slowly he began to open up and learned how to deal with his anger.
The young man, who is now 16 years old, says it was because people at the Ranch cared. "When I first came here, they instantly showed me that they cared. They were happy to see me," he said.
"He was just all around in a better space," Tammy said. "Finally, a foster home became available and even just thinking about it now is so exciting. We'd been waiting so long for this home, and it was 'the one!'"
Tammy and her husband have three children, two dogs, and three cats. They enjoy spending time as a family—going on drives and walks, watching movies, and playing games.
Angela Kargbo
Case Manager, Bismarck
Angela Kargbo started working at the Ranch in 2004 as a part-time Youth Care Worker. Within a year, she moved into the case management role and has been there ever since.
"I can't imagine working with a different population," Angela said. "And I can't imagine having better coworkers. It is a great environment. I also like that the Ranch is a Christian-based organization. That was one of the things that first drew me here."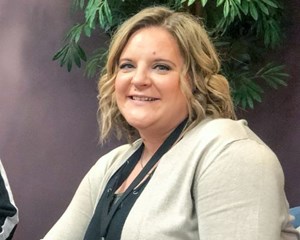 She stays because the kids are always put first. "Every decision is made with the kids at the forefront. For example, our air conditioning isn't working right now and it's really hot in the building. Yesterday some of us were talking about wanting to work from home. Jim Vetter [Vice President of Treatment Services and Government Relations\, reminded us that the kids are here and still living in it, so we can too. No matter your position, you're at the same level here, and the kids always come first."
Working with parents takes up a lot of Angela's time; and she said the Bismarck facility has more parent referrals than ever before. "Lately, we rarely have a social service referral. When parents bring their kids here, we are really upfront with them. They're expected to participate. For the most part, they go to family therapy, reach out to us, and give their input. It's really fun to see that."
"The kids are resourceful and creative, and full of energy. Sometimes it gets chaotic, but they bring it back around. They want to learn, even when they don't realize it. They want to do better. They want to be home. We just need to tap into that energy, reframe it, and make it positive."
Angela recalls a young boy at the Ranch who was really struggling at home, but when he got to the Ranch, he didn't have a lot of negative behaviors.
"We gave him that structured environment he wasn't used to, and he just blossomed," Angela said. "His mom was really involved, and he transitioned back home after only two months. He was doing so well, he didn't need to be here. Mom followed up and said she is so thankful for everything. She feels like their family, as a whole, is better. We've had a lot of cases lately where the families have made lots of changes."
Angela grew up on a farm in Mercer, ND, majored in Social Work at Minnesota State University Moorhead, Moorhead, MN, and now lives in Bismarck, ND. She likes traveling, playing volleyball, attending professional sporting events, and spending time with her many nieces and nephews. Angela is also a volunteer with Special Olympics. Before COVID put their events on hold, she was on the Special Olympics Bismarck area management team and coached volleyball, basketball, and soccer.
This article was originally published in Ranch Voice: Summer 2021.
---
Read more stories like this and explore other issues of Ranch Voice here.