I am constantly reminded of the many types of expertise held by the people working with the children who come to Dakota Boys and Girls Ranch. Because the children have a multitude of experiences and traumas, we must use a multitude of approaches to help them identify their own challenges and develop ways to cope with them. The door to understanding is opened in many different ways — sometimes in school, sometimes in nursing services, in therapy, with the horses, in Spiritual Life.
And, sometimes it is in a special group treatment setting with our social work case managers. I saw the kids blowing up watermelons in a recent group—not with explosives, with rubber bands—and I thought I'd share with you another one of the ways we try to help the children understand themselves...and heal.
Several years ago, Lucas Mitzel, LMSW, and another Ranch direct care staff created STAR group, with STAR standing for Social skills, Thinking flexibility, Anger control, and Resiliency. STAR group is now a tradition on the Fargo campus, and has been successful in building emotional intelligence and interjecting positive messages into daily life at the Ranch.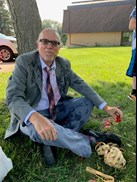 How does it work? Case Managers, Rachael Kary and Katelyn Hanson, choose a STAR topic each week, and find activities to reinforce the topics—which have included morality, black and white thinking, communication, etc. On Sundays, direct care staff introduce the topic and the daily goal. Every evening before bedtime, staff and kids gather in their cottage to talk about how they met their goal that day and to share examples.
When I asked Rachael about the exploding watermelons, she said, "Our topic in STAR group was resiliency and being able to bounce back when life throws us some curveballs. We used rubber bands as they are elastic and flexible. The rubber bands represented the ability to be flexible and strong even when pushed to the limit. We decided to 'push it to the limit' by seeing how many rubber bands we could wrap around a watermelon before the watermelon exploded. The boys lost count after 100 bands. They enjoyed the activity and cooled down with some tasty watermelon afterward!"
When we shared this story in our weekly employee communications, Minot staff brought it to their groups and even Dr. Wayne Martinsen (our Psychiatrist and Medical Director) got in on the action.
Yup, even a watermelon is a learning tool at Dakota Boys and Girls Ranch! Anything to "help at-risk children and their families succeed in the name of Christ."
Watch out for exploding watermelons!
In His love,
Joy Ryan, President/CEO
Dakota Boys and Girls Ranch
---

If you are a Thrivent Financial member, you may have Thrivent Choice Dollars® available to direct. Your Choice Dollars® can be directed to multiple organizations each year. Please consider choosing Dakota Boys and Girls Ranch as one place you direct your Choice Dollars®. All Thrivent Choice Dollars® are used to fund our Spiritual Life Program, giving our children the opportunity to grow in their faith and learn about their loving Heavenly Father. To direct your Choice Dollars® to Dakota Boys and Girls Ranch, go to Thrivent.com/thriventchoice. You can also direct your Choice Dollars® over the phone by calling 1-800-847-4836, and say "Thrivent Choice," after the prompt. The deadline is MARCH 31st, so direct your Choice Dollars® today!
---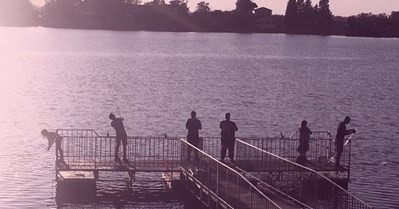 Something We Can All Agree On?
---
To receive ministry updates and stories about our precious kids directly to your inbox, sign up here!