We can probably all agree that going to school is important. In addition to reading, writing, and arithmetic, students learn how to make friends, work together, think critically, set goals, and solve problems. School gives kids a community—a place to belong—and it shows them a world full of opportunities and promise.
"But, for many of the children at Dakota Boys and Girls Ranch, school has been a source of frustration and failure," said Marcia Bartok, Superintendent/Vice President Education. "They've been bullied, ignored, and humiliated. They've failed classes, failed to make friends, and failed to learn."
"So, when they walk into Dakota Memorial School (DMS), they are burdened with fear—fear that the frustration and failure has followed them."
DMS's unique, therapeutic educational environment gives kids an opportunity to experience school in a new way. Our educators work with students to turn their fears into new academic and study skills, new social and emotional skills, new strategies to manage inappropriate behaviors, and new ways to feel and experience school success.
---
Dakota Memorial School, the on-campus school of Dakota Boys and Girls Ranch with campuses in Minot, Bismarck, and Fargo, ND, educates two groups of kids. The first group of students are in residential treatment at the Ranch. They live on campus and in addition to school, they receive around-the-clock care. Residential kids stay at the Ranch an average of 6-9 months, and in most cases, return to their home school when they complete treatment.
The second group of kids are in the Day Program. Students in the Day Program live at home and come to DMS during the day. And while they come and go just like they would in any other school, day students receive supportive services during the day that help them be successful. Some of our day students stay with us awhile and then return to their home school. Others stay, sometimes until graduation.
Our principals, deans of students, and coordinators of student services share their thoughts about what makes DMS a special place where fear turns into hope.
Tina DeGree: Creating moments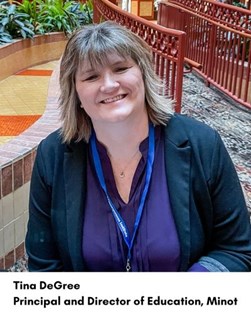 Leading with empathy and knowing each person has their own unique story guides Tina in her work with kids at the Ranch.
"Everyone's childhood is different and filled with highs and lows," Tina said. "Moving from place to place, not feeling the stability that comes from a healthy home environment, or stressors from life they cannot control, are things many of our kids come in knowing really well. Life can become a series of 'what-if' and 'if only'—if only this didn't happen, my life would be better."
Tina believes our kids are looking for compassion, modeling, and an assurance we will be there through the anger, sadness, joy, and laughter. Our job is to show them how facing, rather than avoiding, their pain, anger, or sadness, is part of the process of healing and finding value in themselves as human beings.
Tina said she had some amazing mentors in her life—mentors that led her to a career in education and emotional/behavioral health at Dakota Boys and Girls Ranch. Tina is Principal/Director of Education of Dakota Memorial School, Minot. In her position, she does a lot of paperwork, planning, and supporting staff so they can provide the best education possible for our complex kids. Providing the supports to teachers and staff means developing professional relationships and being there through the celebrations and the frustrations.
"My reason for staying at the Ranch is because our mission is centered on Christ," Tina said. "And what did Christ do? He built relationships with the people He loved. His love was for everyone. You don't just pay attention to the needs of some kids—you love and care for them all."
Loving every child, and having a relationship with every child, takes time. But it's time Tina is more than willing to commit.
"Our kids bring their lives to school. And they are here because they need help improving their lives," Tina said.
People sometimes ask Tina if she can take away the triggers—the smells, sounds, and situations that remind a child of their trauma. Even though removing the triggers is a logical step to help a child get through the day, Tina knows it's not best for their long-term success. At the same time, Tina said we are careful to not overwhelm them with too much too fast.
"We focus on the child and what they need today, tomorrow, and down the road," Tina said. "We focus on one small part of healing, celebrate when they master a new skill, and then work on building another small skill. As we make decisions about a child's treatment, we are mindful and present, always looking for guidance from other members of their team."
"We can't remove all the struggles, because those things will still be there when they leave us," Tina said. "We surround them with the support they need to work through them. For instance, if working with others is a trigger for a child, we're not going to tell them they never have to work with anyone again. That's why we are here—so we can help them work through the things that cause distress."
Tina believes staff training is one of the keys to creating an environment that works for the unique population of kids at Dakota Memorial School. As Director of Education, she helps coordinate professional development for school staff on all three campuses.
"Our teachers are very open to learning how they can better help the kids we serve. We provide special training for staff so they not only understand the effects of trauma, but know how to help kids who are working through it," Tina said. "Kids do well here because our highly trained staff help them feel good about themselves, even while they are struggling behaviorally, academically, and mentally."
Tina boils her teaching philosophy down to a saying she has hanging on her wall, "Perhaps this is the moment for which you have been created."
"We need to do our best every moment, because you never know if this is the moment that will make the difference for a child," Tina said. "If we're not at the top of our game, we might miss the moment. And that's not fair to the kids we serve."
Tina DeGree lives on a farm near Minot with her husband and their youngest daughter. She earned her bachelor's degree in Elementary Education from the University of Mary, Bismarck, ND, and her master's degree in Elementary Education (with concentrations in reading and emotional disorders) from Minot State University, Minot, ND. In addition to her many years of teaching, Tina holds Elementary, Middle, and High School Principal and Superintendent Credentials, as given out by the North Dakota Department of Public Instruction.
Scott Ottmar: Always learning
Scott Ottmar has been working with at-risk students since his first teaching job at an alternative school in New Ulm, MN. Since coming to Dakota Memorial School, Bismarck, two years ago, Scott has used his 24 years of experience to not only support the students, but to mentor his colleagues.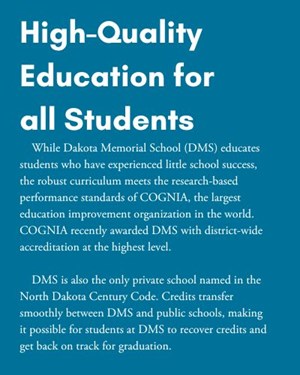 "We have a strong teaching core," Scott said. "Our teachers are strong and hungry to make a difference in kids' lives. You can see it in the way they plan, in how they talk to their students, and in how they interact with each other. We all learn so much from each other."
Scott also works closely with the students. He likes to know them each personally so he can help them find and build upon their unique strengths.
"I can read about their background in the file, but I want the whole picture," Scott said. "Are they going to laugh at my jokes? How do they interact with adults? Do they need to work on social skills? One of the things we do really well here is to build relationships with the students so we can sit down and have a conversation when we need to."
Scott said education is often the last thing on the minds of DMS students.
"They have so many other things going on in their lives and with their mental health," Scott said. "Our goal is to get them back on track so they can transition back to their home school with a smile, a good heart, empathy, caring, and compassion."
When students leave DMS, Scott works with them to make the transition successful, sometimes transitioning a class or two at a time.
"Maybe they'll go to public school in the morning and come here in the afternoon," Scott said. "If that goes well for a few weeks, maybe we add another class or two, and so on. It's nice to have the flexibility so we don't push them out the door to sink or swim. The students appreciate it, and I think the other schools appreciate it too. We always think about what it's like for the students, but that transition is a big change for the school too. Getting them back little by little is sometimes the best option."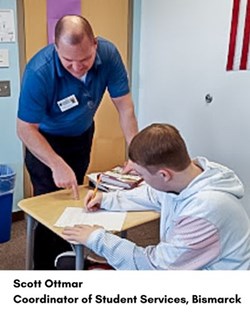 Scott's favorite moments are when he sees the light go on for students—when they say, "Okay. Now I get it!"
"Those stories don't happen every day, but they keep me going," Scott said. "You keep teaching, and you keep doing your thing, and you believe that even if you're not getting the reaction you want, that doesn't mean they're not listening or paying attention. Sometimes students will come to me years later to thank me for something I said or did."
Scott has a long history in education, but he is aware he doesn't know everything.
"I have worked with at-risk students a long time, and have a special understanding of these kids, but I am always growing and learning," Scott said. "I thought I had been through just about everything in education, and then this last year with COVID made me realize I hadn't."
"We've got to think outside the box, 20 miles outside the box, to give these kids what they need."
Scott Ottmar has been an educator for 24 years—teaching in schools in both Minnesota and Wisconsin before moving his family back to his hometown of Bismarck. He earned a bachelor's degree in English Language Arts from Minnesota State University Moorhead, and a master's degree in Experiential Education from Minnesota State University, Mankato.
Shayla Leinen: Bringing hope
Shayla Leinen spends every day working with what she says are the "coolest, most complex, big-hearted kids in the area."
"We work with kids who have been through immense trauma," Shayla said. "They may have learning difficulties to overcome. Or anxiety so severe they can't get out of the house. Some haven't been going to school. Others have difficult home situations. Our learners have a lot of different challenges that impede learning."
"Still, I'm in awe of them every day. Like when a student hasn't been to school in a year, and they take their first step into our building. Or the day student who makes a 100-mile round trip to school every single day. Or the kid who says, 'I'm bad at school, and I hate it,' and they keep coming until they realize they can 'do school.'"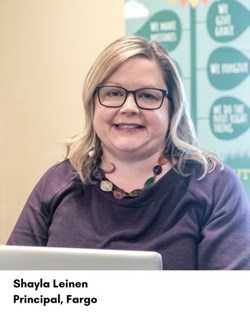 Shayla started working at the Ranch 22 years ago as a Youth Care Worker in the Ranch's residential treatment program. Since then, she has been a Case Manager, Day Program Coordinator, and now Principal. The Ranch has become her second home and she can't see herself anywhere else.
"This might sound cheesy," Shayla said. "But I'm all in. I believe, to  my core, that what we do at the Ranch helps children and families succeed in the name of Christ."
When asked what makes Dakota Memorial School special, Shayla said the obvious differences are class sizes, teacher-student ratio, and balanced learning environments (classrooms designed with special lighting and furniture options used to create learning spaces suited to each child). But she believes the real difference is the level of expertise of Ranch and DMS staff—expertise in providing trauma-sensitive care.
"As everyone in education becomes aware of the impact of trauma, more and more schools are implementing trauma-sensitive strategies," Shayla said. "But we are cutting edge. We study the latest research and put into practice what we learn about how trauma affects the brain," Shayla said. "We adapt and make changes when necessary. I have a Maya Angelou quote on my wall that says, 'Do the best you can until you know better. When you know better, do better.' That is what we do at the Ranch. We are constantly learning more, stepping outside the box, and doing better for kids."
Shayla said DMS is successful in educating kids with psychiatric and behavioral challenges because everyone has the same mindset—students and staff learn together, make mistakes together, and move forward together.
"I try to cultivate a culture where it's OK to make mistakes," Shayla said. "Every day is a fresh day, and we get to reset and restart. That doesn't mean we forget what happens, but that we have a chance to repair the hard and move on. We don't need to rehash it a hundred times over and over."
Shayla's overarching intention is to bring hope to the kids and families served at DMS.
"Too often, people have told our kids and their families they were going to get another chance and then didn't follow through. We need to show in our actions and our words that we want them here and we want them to be successful."
Shayla Leinen and her husband have two kids in high school, and they spend much of their time at extracurricular activities. She grew up in Breckenridge, MN, and earned her bachelor's degree in Social Work from Minnesota State University Moorhead. She is working on a Certificate in School Management and Leadership (CSML) through the Harvard Graduate School of Education.
Sherry Wagner: Loving kids
Sherry Wagner doesn't hesitate to talk about her Christian faith with kids at Dakota Memorial School.
"I love that when someone is hurting in our school, we can pray for them and come together in Christ. We openly talk about the most important person in our life, Christ," Sherry said. "I think it's very important for our kids to know the Lord is there and He is always going to be there. I love that we start each day worshipping God."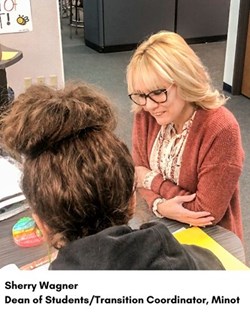 Sherry sees every child at DMS as a child of God and treasures the time she spends with them.
"These kids are my inspiration," she said. "I respect them for just getting up in the morning and putting one foot in front of the other. It is so heartwarming to see that even though they've been through the ringer, they still have it in them to care for someone else. I witness them doing little acts of kindness every day."
One day, Sherry came to work to find a note from a student on her desk. The note said, "Dear Mrs. Wagner. You may not know it, but thanks to you I am being more successful in school. You are one of the kindest, patient, understanding, and helpful people in my life. Thank you very much."
"I truly love these kids," Sherry said. "We are put on this earth to love others; therefore, I'm going to do my best o meet their needs. And they pay it back to me tenfold."
When Sherry walks past a refocus room, (where we sit with kids when they are struggling), she doesn't ask them what happened, or what they did, or why they did it. Her first question is, "What do you need?"
"I want to know what I need to get them or do for them so they can get out of the emotional space they are in and back to where they can learn," Sherry said. "If that means spending a whole day with a child so they can get through the day, or taking them outside for a walk, or whatever, that's what I do."
While her role as Dean of Students involves supporting the students and staff while they are at DMS, Sherry's role as Transition Coordinator involves supporting the kids, parents, and school district as students transfer from DMS to another school. She creates transition portfolios that contain a wealth of information for the child's next school, including testing results, a transcript and learning inventory, grades, the coping skills and classroom techniques that worked for the student, and the comments from their teachers. She also attends transition meetings and manages the process, so parents don't have to worry they've missed something.
"Ultimately, it's all about the kids," Sherry said. "My goal for each of these kids is for them to take what we give them, and go out after graduation and achieve their goals—to be someone the community can respect," Sherry said.
Sherry Wagner has always worked with kids. Before joining the Ranch six years ago, she worked at Job Corps and managed a multi-site childcare center. Sherry earned a bachelor's degree in Elementary Education and a master's degree in Management, both from Minot State University, Minot, ND.
Mallory Halvorson: Celebrating little victories
When Mallory Halvorson gives tours of the school on the Ranch's Bismarck campus, she says, "You've heard of one-room schoolhouses? Well, we are a one hallway schoolhouse."
The size of the school is precisely what makes it a place of success for kids at the Ranch. With fewer kids, Mallory and her staff have time to be more involved in each child's education.
"A lot of our kids struggled being in a school with a thousand plus kids," Mallory said. "The many groups of people and variety of personalities are too much for them. When you see behaviors in kids, it's usually because they are trying to overcompensate for feeling like they don't know what they are doing."
"Those behaviors may diminish if we show them some success and build the social, emotional, and academic skills they are lacking."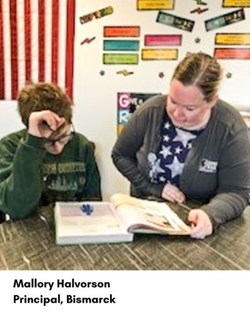 While Dakota Memorial School has a low teacher-to-student ratio, Mallory is quick to point out that none of that matters without teachers who are fully committed to working with students who have undergone significant trauma.
"We will never understand the trauma a student is going through," Mallory said. "But we can know it's there and that it's very much affecting their life and how they go about their day."
Because every child's trauma or circumstances is unique, Mallory defines success differently for every child at DMS.
"I might look back at a student's Individual Education Plan (IEP) and see they were not in class 40% of the day. But after being with us four months, they are in class every single day with their peers. Or they might have had outbursts and behaviors in class and didn't get along with the other students. And now they are sitting next to each other and working on group projects," Mallory said.
"For me, success isn't measured by grades. It's the little victories, like a kid being in school every day this week or staying awake in class."
As principal, Mallory strives to give teachers and students what they need to find those little victories they can celebrate.
"I can't imagine doing anything else," Mallory said. "I love coming to work. I work with a great group of people. We're all working towards the same cause. I know there will be days that are tough, but at the end of the day, if one kid had something to celebrate, then that's enough for me."
With a background in teaching and special education, Mallory Halvorson is passionate about bringing her very best self to work every day. She earned a bachelor's degree in Elementary Education from Dickinson State University, Dickinson, ND, and a master's degree in Special Education from Minot State University, Minot, ND. She will complete her principal credential through Minnesota State University Moorhead later this month.
Gail Lundy: Creating connections
When Gail Lundy meets with parents who might have a child coming to Dakota Memorial School, she can often see the exhaustion in their eyes. 
"By the time kids enroll with us, the whole family has been through a lot," Gail said. "DMS only becomes an educational option after the child's home school district has exhausted all of its resources, and that's how it should be. But, by this point, some parents are exhausted. I know parents who haven't been able to work because they were always getting calls from the school or being asked to pick their child up from school."
"If we can find a way to help their child succeed in school, often for the first time, it decreases the stress level within the family," Gail said.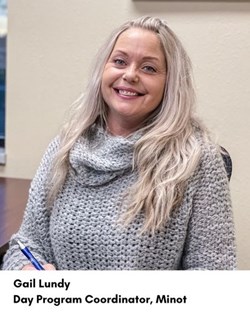 Gail helps families get the support they need by connecting them to services such as occupational therapy, medication management, therapy, food banks, etc.
She has one student who is trying to get a Social Security card, so she is helping him get the verifications he needs. If a family is struggling to find food, she gives them grocery store gift cards that were donated. When COVID hit, Gail and the DMS team traveled hundreds of miles to students' homes, delivering school lunches, school gift baskets, and little gifts for the students.
"We wanted our kids to know that even though they weren't coming to the school building, we were still there for them—we were still connected," Gail said.
Gail tells of one student with whom she has built a strong relationship.
"When he came to us, he was a fourth-grader," Gail said. "At times he struggled to keep his emotions in check. This young man is now on the Honor Roll and Student Council, was Student of the Quarter, and is very active with our school store. He enjoyed representing DMS on a special Thanksgiving Service project at a local soup kitchen. His mom and I have talked about how happy and proud we are with his progress. We are both going to be so emotional at his graduation."
This young man, a senior in high school, has been at DMS since 4th grade, but not all students stay at DMS until they graduate.
DMS is a transition school, so at every meeting with the child's family and school, the team talks about transitioning the student back to public school.
"They get a little anxious because for the first time their child is experiencing success at school," Gail said. "The young man I mentioned came from a school district that supported the decision for him to stay at DMS because they could see it was the best educational environment for him."
Other students learn the skills they need here to successfully transition back to public school.
"The school districts really care for these kids and are vested in them," Gail said.
She believes one big difference between public schools and DMS is that while public schools make accommodations for kids on Individual Education Plans (IEPs), DMS has many of these accommodations in place naturally.
"DMS is more than a school," Gail said. "We have the small classroom settings and balanced learning environments, and we provide mindful breaks. With all the kids having these opportunities, none of them feel different and singled out. I truly believe this gives kids a sense of belonging," Gail said.
While every student is different, the paperwork Gail reviews when a child is enrolled most often focuses on their struggles—attendance or behavior issues, grades, mental health concerns, and more. Gail looks past the paperwork to see the students as their true selves.
"They are really great kids, and we won't give up on them," Gail said. "I love the compassion and kindness we have here at the school. We have the mindset that each day is a new day, and we support each child the best we can."
Gail Lundy has a bachelor's degree in Social Work from Minot State University. After coming to the Ranch to coordinate a one-year grant program, she became a case manager in Thatcher Cottage, and then moved into her current position, Day Program Coordinator. When she's not at work, Gail likes to walk, redecorate her house, travel, spend time with friends and family, and play with her puppy, Archie B.
John Campbell: Cultivating capital 
John Campbell had his own struggles in high school, which helps him relate to the students at Dakota Memorial School.
"My parents both had careers in education and education was important to them. I wanted to do well but I didn't learn like most kids, so it was hard," John said.
He made his way through school with a little extra support, went into business, and years later started working with children who had cognitive and behavioral challenges.
"I was a paraprofessional in a school and was asked to do an inclusion class, which meant getting kids in the general part of the school together with kids in special education. They learned together, asked each other questions, and learned about each other's challenges," John said. "I found a passion for being an advocate in education and eventually found my way to the Ranch."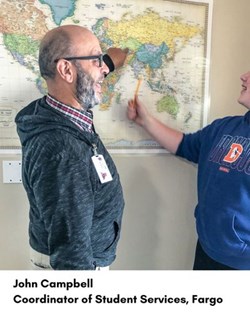 At the Ranch, John jumped right into learning about trauma, the brain, and how trauma impacts learning. The things he learned, along with his own school experiences, led to an understanding of the many factors that can get in the way of learning. 
"With our kids, there are often a few things that need to be taken care of before they can get into the executive functioning part of the brain," John said. "For instance, some of our day students come to school hungry. Maybe they don't have any food at home or anyone there to cook for them. Whatever the reason, you can't learn when you are hungry. Serving healthy meals, including breakfast and snacks throughout the day, is huge for recharging young minds."
John works hard to meet the basic needs of his students so they can focus on learning. He calls it "cultivating capital," and is especially focused on the DMS Day Students, who often don't have anyone else to advocate for them.
"By capital, I mean things they are lacking—which might be dental or medical care, therapy, occupational therapy, medication management, or supportive adults," John said. "And, of course, education-wise, finding out where they are at in school, what they've done well, where they'd like to improve, and what we can do to help them make those improvements."
John said he starts his day planning, scheduling paras in the classrooms, and making sure the teachers have what they need.
"Then I sometimes giggle a little about the plan, because it never works out exactly the way I lay it out!" John said.
Before the students get to school, DMS staff meet in the hallway to pray over the kids and the day. Then it's on to breakfast with the kids followed by morning chapel. As for the rest of John's day—he goes where he is needed.
"I spend most of my day listening to kids," John said. "I hope my actions show them that people at the Ranch love and care for them. I'm here to invest in the kids who are with us right now. And I work with people who believe the same thing. Together, we make a difference—sometimes slowly, sometimes quickly—because we focus on God, our mission, and our core beliefs."
John Campbell likes to golf, fish, and spend time with his wife and their two adult children. He is a Mental Health First Aid trainer, a Nonviolent Crisis Intervention® trainer, and he works with people in addiction recovery as a Certified Peer Support Specialist. John earned a two-year certificate in Developmental Disabilities from Minot State University.
This article was originally published in Ranch Voice: Winter 2021.
---
Read more stories like this and explore other issues of Ranch Voice here.