One of the great challenges of the work we do at Dakota Boys and Girls Ranch is helping our children be successful when they leave our care. During treatment, we wrap children and their families in many services and supports. When a child completes treatment and goes home, the family must find these services in the community—not an easy task when they may have their own challenges and/or live in a rural area with few available services.
In 2019, out of that need and with the support of some changing service guidelines, the Ranch created the Aftercare Program.
The Aftercare Program provides six months (or more) of follow-up aftercare services to every child who leaves a Ranch Qualified Residential Treatment Program (QRTP), which includes three cottages in Minot and one in Fargo.
Kaitlin Kinsella, Director of Residential Services, said the Ranch aftercare specialists bridge the gap between treatment and home.
"There is a big gap between the treatment environment and what happens in the home environment in terms of activity, structure, people, and support," Kaitlin said. "They help to make sure all of the progress kids make in treatment continues into the home and community environment."
And for the Youth and Family Engagement Specialists doing the work, it's more than an 8-5 job.
"Our work cell phones are always on," said Margarita Nieskes. "If it's after hours, I might not answer, but I always call them back. If a kid or parent is calling, it's because they need you at that moment."
The success of the Ranch's Aftercare Program ultimately comes down to the people—Amanda Grubb, who was instrumental in creating the program, and her staff of Youth and Family Engagement Specialists (aftercare specialists).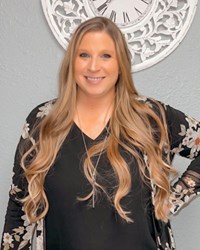 Amanda Grubb grew up in Allegan, MI, and graduated from Michigan State University with a bachelor's degree in Criminal Justice. She moved to Bismarck, ND after graduation and was looking for a job in adult probation when she heard about Dakota Boys and Girls Ranch.
"I didn't really want to work with kids," Amanda said, "but I was hearing about the Ranch all over the place, so I decided to look into it. I thought it might be a good starting place before moving onto what I really wanted to do. Now I can't imagine not working with kids."
Amanda believes in what the Ranch does and after 10 years at the Ranch, she can't see herself anywhere else.
"I met all my best friends at the Ranch, including my maid of honor. The Ranch is my family. I don't think you will find another agency out there like us. We are truly here to help kids be successful and we are the best of the best. We put in the extra effort, we go the extra step, we follow through, and we fix things. The Ranch is a great place."
Amanda said the Aftercare program is built on relationships. Aftercare specialists start getting to know kids as soon as they come to the Ranch. They attend the child's treatment meetings, introduce themselves to the child's family, and explain the program.
"During treatment, we really focus on relationship building. We meet with the kids and do fun relationship-building activities. We learned that if we take them out for coffee a couple times during treatment, they'll want to hang out with us afterward," Amanda said. "When we first started the program, many of the families refused to work with us, but we rarely have that happening now. Families and referrals are learning that we are here to make their jobs easier."
One of the challenges families face, Amanda said, is the lack of community resources, including a lack of therapists, providers who can prescribe and monitor psychotropic medications, health activities, positive peer groups, and mentors.
Transportation is also a big issue for well-intentioned parents who want to get their kids to their appointments, but don't have a way to get them there.
"We've found that families often need as much or more support than the child. They don't have a strong support group behind them to help them deal with these tough kids," Amanda said. "And by families, I mean whoever the child is living with, whether it be a grandparent, foster family, brother, sister, or parent."
"I don't think people realize how much these families have going on—medical appointments, therapy appointments, and all the meetings and calls from us and others who are trying to help them. Parents are getting pulled in a million different directions while still trying to live their own lives and hold down jobs. We can simplify it for them and help them get the most of everything. Sometimes we can combine services, so we all meet with them together. Sometimes we can help them arrange transportation."
Amanda said one of our 16-year-old boys was discharging from treatment to a foster family that lived 45 miles from Bismarck. The family didn't know until about a week before he was to live with them that he wasn't able to be alone. They had assumed he could be alone during the day while they were at work. Rather than jeopardize his placement, the Aftercare Team went to work. They enrolled him in summer programming o the Ranch's Bismarck campus, so he would have something productive to do, and they figured out a way for him to get to Bismarck and back home every day.
"It was day-to-day, but we found a way. It was just a matter of getting creative," Amanda said.
"Our goal at the end of the day is for these kids to be successful. I feel like the Aftercare Program really pushes that ultimate idea of success. It's pretty cool when kids are successful in their home communities, and they don't need us anymore."
In addition to her work at the Ranch, Amanda co-owns a small daycare center with her mother and sister. She and her husband have a two-year-old daughter "who is full of spaz and is just the cutest thing in the world," and a puppy named Chewy. When she isn't working, Amanda enjoys spending time with her family and doing remodeling projects around the house.
Kaitlyn Schelske is at the Ranch for the kids. Fresh out of college in 2019, she joined the Ranch as a youth care worker, was promoted to shift leader, and in November 2021, moved into the aftercare specialist position.
"I absolutely love working with the kids," Kaitlyn said. "One of my favorite roles in direct care was one-on-one time with the kids. And now I literally get a caseload of kids that I get to do that with."
Kaitlyn said the work is challenging because every child is unique and she needs to approach each one in a different way. She thrives on the challenge.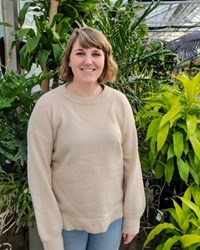 "I love being a sponge," she said. "I love listening and watching and learning all these different things. I need to push myself and know a bunch of different things to support my kids. I can do that best by challenging myself and by listening to the kids and their families."
Kaitlyn believes working with a child's family is critical to their long-term success.
"The families get accustomed to the child not being there. It can be a challenge to get back into a routine and get set up with different services," Kaitlyn said. "If parents are having a hard time adjusting to the child coming back into the home, our role is to support them and come up with solutions. Kids get used to the Ranch's structure and routine. If they move to a home where their parents don't hold them accountable, it's easy for them to go back to their bad habits. Maybe they need to set more rules and expectations. We can help them do that."
Working with the child's caseworkers and others involved in their care is also an important part of an aftercare specialist's work.
"We're like the middleman of the team," Kaitlyn said, "where we go back and forth and are here to support anybody and everybody who is related to our kids."
While Kaitlyn says the thing she loves most about her work is the kids, she also loves the Ranch for the opportunities it provides its employees.
"When I started at the Ranch, I was fresh out of college and working in direct care. I found ways to push myself and discovered interests I didn't think I had. The Ranch allowed me to grow and to pursue those interests. The Ranch provides a lot and it's awesome to be able to take advantage of it."
Kaitlyn earned a bachelor's degree in Psychology from the University of Mary, Bismarck, ND. After working at the Ranch, Kaitlyn realized she wanted to expand her options, so she is now pursuing a bachelor's degree in Social Work at Minot State University.
Kaitlyn was born in Devils Lake, ND, and moved with her family to Mandan, ND, when she was five. Her dad was a park ranger so she grew up living in state parks and continues to enjoy outdoor activities like kayaking and hiking. She loves spending time with her family, her boyfriend, and her cat, Hadley. She also enjoys cooking, baking, and her weekend job at Huff Hills Ski Area.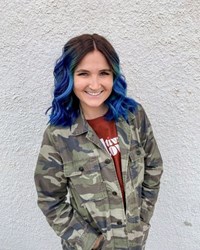 Katrin Seideman spent time at the Ranch before she was even born. Her mom, Shannon Lackey, was pregnant with Katrin when she was hired to work at the Ranch.
"She eventually became a police officer," Katrin said, "but she worked at the Ranch a long time and loved it. I had a feeling I would too, so when I graduated from the University of Mary, Bismarck, ND, and saw the Ranch was hiring, I was like, now is my time."
Katrin was also drawn to the Ranch because of her older brother. "He really struggled with drugs, being involved in the wrong crowds, and running away," Katrin said. "He ended up passing away when he was 18 and I was nine. I think he is a big reason I've always wanted to work with people who struggle with mental health and other issues."
Katrin says her goal as an aftercare specialist is to support youth and families in every way possible.
"I think aftercare is important for the kids and their families. You can't have a child in treatment for months and then all of a sudden say, 'Well, here you go. Good luck.' You still need people around to help."
Aftercare specialists like Katrin support the families for six months, and longer if the family or child requests an extension.
"After a child has been in treatment, the community can be super overwhelming," Katrin said. "We can help them deal with those feelings and navigate the challenges."
Katrin tells of one young man she worked with as a youth care worker when she first started at the Ranch, and now as an aftercare specialist. Nick* and his older brother, who had serious drug issues, were raised by their grandma. Nick started getting in trouble at a young age and has been in several placements, including the Ranch. 
Nick really struggled so Katrin supported both him and his grandma in every way she could. Eventually, another older brother—who has a stable job, a wife, and children—took him in and he has made a complete turnaround.
"I just talked to him yesterday and he is doing so well," Katrin said. "I helped him with his resume so he can get a job. He will be 18 this summer so we are trying to get him ready to be an adult. He is learning some good skills and I'm really proud of him."
Katrin said her job is different every day, but it's basically broken down into three parts—attending treatment meetings for her kids, visiting the kids and their families, and paperwork.
"It's a good balance," Katrin said. "You are super social seeing families, talking on the phone, and going to meetings. And then you can calm down a bit and focus on getting all the paperwork done."
When Katrin isn't working, she enjoys spending time with her family, watching scary movies, and playing with her dog, Recon. She also likes relaxing at home with a good book and going to the lake in the summer.
Margarita Nieskes grew up in the upper peninsula of Michigan. She graduated (as a first-generation college graduate) from Michigan Technological University, Houghton, MI, with a bachelor's degree in Biological Science. Shortly after graduation, Margarita moved to North Dakota to work as a Certified Nursing Assistant in a nursing home. While continuing to work part-time as a CNA, Margarita also worked in early childhood and elementary education, at a vocational rehabilitation center for adults, at Dakota Memorial School in a short-term contract position, and as a restorative justice facilitator at Lutheran Social Services of North Dakota.
When LSS closed, Margarita was excited to get back to the Ranch, this time as an aftercare specialist.
"I looked for opportunities to come back to the Ranch because it's special," Margarita said. "People who work for the Ranch are here for different reasons than employees in other places. Those reasons are rooted in our faith and the Ranch mission. We know why we are here. We know that we are up against the odds but we're going to put our best foot forward because we know that's our work, that's what we do."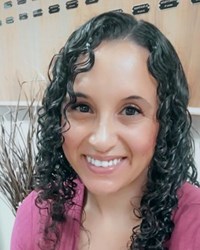 "The rewards are seeing kids make strides, seeing them get up after they fall, seeing them advocate for themselves. It's hard work," Margarita said, "but I love the kids and it's a privilege to work with them."
In her role at the Ranch, Margarita helps kids grow, develop, and learn so they can reach for their dreams.
"If one of my kids has something they are interested in, it's my responsibility to help spark that interest, to make it come alive for them, to help them believe in their ability to get back up when they fall," she said. "These are the kids that need to go to college because they are going to change the world. They have never had the world given to them. They've always struggled, so they are going to fight for what is right."
When one of her children is discharging, Margarita likes tackling some of the big questions. What is something you're looking forward to? What is something that worries you? What is something you wish you didn't have to do when you go home? 
"A lot of my kids are worried about having access to everything, the good and bad of the world and the consequences that come with it," Margarita said.
One of Margarita's young clients, Emma*, was worried about using alcohol and marijuana, and she succumbed to the temptation soon after returning home.
"The good news is that her foster mom is amazing. She knows her child and her behavior and called her on it," Margarita said. "When I asked Emma what happened and what was going through her head, she said, 'I was bored. I was lonely, so I reached out to an old friend.' We talked about some things she can do when she is feeling that way, and how she can advocate for her own well-being by saying something like, 'I'm on a better path for myself and that's just not something I want to engage in,' and then walk away. I talked to her last week and she hasn't used since then. It's been a month."
While Margarita says the work is challenging emotionally and physically, it's worth it. "These kids deserve a voice. I want to be that voice for them and to help them find their voice along the way."
Margarita spends her off-work time reading, listening to music, and with her friends and family.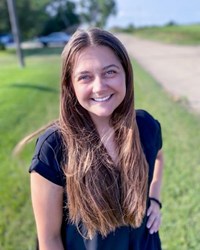 Shaina Vanyo graduated from Minnesota State University Moorhead, Moorhead, MN, with a bachelor's degree in Social Work. She joined the Ranch as a youth care worker in 2017, shortly after graduation, and hasn't looked back.
"I'm a Rancher," Shaina said. "I love our mission, our value statements, everything. I've met so many cool staff and kids, and I've learned so much from all of them. I've just never thought about leaving."
Shaina grew up in Fargo, ND, as the oldest of four children, and says she wishes her kids could have grown up in a family like hers.
"I grew up with a family that I think a lot of people deserve. We weren't perfect. But we always knew we were loved," she said. "We knew we could go home and be accepted for who we were. That's what motivates me to be there for these kids, because I know most of them missed out on that. I want these kids to know I care about them, think about them, pray for them, and want them to do well."
Along with Amanda Grubb, Shaina was one of the first Aftercare Program employees. She said the challenge at the beginning was figuring out the aftercare role while kids were still in treatment.
"It got a little messy because parents and referrals didn't know who to talk to. Their go-to should be the case manager, so we had to step back a little," Shaina said. "It's our job to collaborate with the treatment team and make sure they are talking about discharge planning."
The other big challenge was getting kids, families, and referrals to buy into the program.
"When we first started and the kids didn't know us well, they wouldn't take our calls. Aftercare is much different now because of the relationship-building we do with the kids. It's a unique role," Shaina said. "Because we aren't direct care staff, we don't have to tell them what they can't do. I gt to just listen when they are frustrated and give advice. They start to trust you and then they know who to call when they discharge."
A few weeks ago, Shaina received one of those calls from Simon*, one of her aftercare kids. He had left the Ranch to live in a foster home a few months before he turned 18. He ran away and Shaina didn't hear from him until about three weeks after his 18th birthday. He called Shaina and said he needed help—he was homeless and living in his van.
"That day I was able to get him into a shelter," Shaina said. "And we made plans to keep getting together to figure out what he wanted to do and what he was willing to accept for help. He decided he wanted to get into an Independent Living Program, but to do that he had to sign himself back into foster care. That is really hard for kids to do."
Shaina said Simon did it all on his own. He talked to his caseworker, who he'd been avoiding for months.
"I was with him when he signed himself into care and by the end of February, he should be living in an apartment. He has so many goals. He wants to get his GED, he wants to get a job. I keep telling him it's just one step at a time. Our first step was to get him a safe place to live."
In addition to working with the kids, Shaina supports the parents. She sets up an aftercare plan after asking lots of questions. Who is in charge of making appointments? Who is in charge of getting the kid up for school? Who brings him to school? What are the house rules? Are they allowed to leave home without asking? Who should they ask?
"Treatment is so structured. When kids go home, that structure is usually gone. We help the families put some structure in place until the kids are ready for a more normal home life," Shaina said. "What I do depends on what the families need. It's a super individualized program. I tell families that we have to be honest with each other. They have to tell me what they are struggling with. If I can't help them directly, we will figure it out together."
Shaina and her husband, Riley, live in Comstock, MN, with their two cats and a dog. They love to travel and go to the lake in the summer. Shina describes herself as an introverted extrovert.
"I can do well in large groups, but I definitely re-energize when I'm alone. My ideal day is sitting on the couch, staying home, playing with the dog, reading, or watching TV."
The gold standard
Amanda, Kaitlyn, Katrin, Margarita, and Shaina may have difficult days as aftercare specialists, but they continue for the kids.
"I've had kids and parents texting me and say things like, 'I don't know how I could have done it without you,'" Shaina said. "That'll keep me going for six months!"
The Aftercare Program meets some long-term goals of Ranch leaders who wanted to give kids a smoother transition from treatment to home. And in typical Ranch fashion, we are doing it well.
"They are a very enthusiastic, creative, driven group," Kaitlin said. "We are seeing some amazing outcomes with kids and they are chipping away at some of the barriers to getting kids and families the help they need."
Brittany Fode, LMSW, Guardianship and QRTP Licensing Administrator for the state of North Dakota, said after a recent licensing review, "It is clear that Dakota Boys and Girls Ranch has set a gold standard for the aftercare services they provide to children and families, early engagement, and even engaging with families to extend beyond. This is AMAZING!"
*Names changed to protect confidentiality.
This article was originally published in Ranch Voice: Spring 2022.
---
Read more stories like this and explore other issues of Ranch Voice here.