At Dakota Boys and Girls Ranch, we spend a lot of time getting the kids outside and into nature. That is intentional—because spending time in nature is healing, leading to higher levels of happiness and well-being.
Referencing a study published this spring in the journal, Frontiers in Psychology, David G. Allan wrote, "Researchers found that children who felt connected to nature—feeling pleasure when seeing wildflowers and animals, hearing sounds of nature—engaged in altruism, or actions that helped other people. These children actively cared for the environment by recycling, reusing objects, and saving water. They were also more likely to say they believed in equality among sexes, races, and socioeconomic conditions. Finally, these children score high on a happiness scale."
The kids at the Ranch live with high levels of stress—they are away from friends and family and working through difficult psychiatric and behavioral issues. Spending time in nature can take them away from the fears and burdens that weigh them down.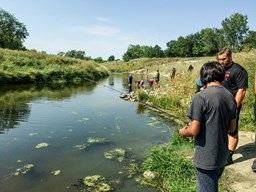 Rev. Paul Krueger, who helps teacher Andrew Meier facilitate the Ranch Wildlife Club, sees a spiritual benefit to the outdoors as well.
"Being in nature helps a person pause and gain perspective," Krueger said. "As you watch a baby pheasant's wings get longer and watch it start chasing around—you see that we're part of something much bigger than our troubles. Sitting by a stream catching fish, or hiking through the woods and looking at the paths the animals make, are an invitation for our spirits and souls to rest in the strong hands of a very mighty, very gracious, very wise, and very caring God."
The Ranch's Wildlife Club introduces participants to a variety of outdoor activities and experiences. They fish off the shores of local lakes and streams, go ice fishing, raise baby pheasants, and build and install wood duck houses in a local wildlife area.
Krueger said participating in Wildlife Club teaches kids new skills, and at the same time, lowers barriers to relationships. "In the process of gaining a new skill or talking about something that is awe-inspiring, we are building bridges that allow caring hearts to connect."
Wildlife Club activities also give kids a way to move away from their pain.
"So we're out fishing and Joanie* has her line in the spot where I know the fish are going to be," Krueger said. "I say, 'Just jiggle it, Joanie.' 'What do you mean, like this?' she asks. And she catches the fish and all of a sudden she has a sense of accomplishment and she isn't locked into her hurts."
"Those simple joys that come from being out and away from the day-to-day pressure or heaviness of life allow real joy to flourish. It is an honor to watch," Krueger said.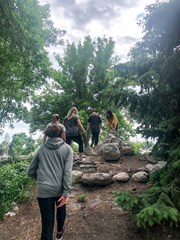 Experiencing nature isn't limited to the kids in the Minot campus' Wildlife Club. Wellness Coordinators on all three campuses find ways to get the kids outdoors. Gabrielle Kwiatek, Wellness Coordinator on the Ranch's Minot campus, took a group of kids to Fort Stevenson State Park this summer.
"It was pretty chilly, but the kids had so much fun throwing rocks in the lake. Something so simple," Kwiatek said. "You could just see the joy on their faces from getting off campus and being somewhere new. Nature is extremely therapeutic. Some of our kids list it as a coping skill, so when their emotions start to heighten they'll ask if they can go for a walk. Getting out of the building into the fresh air and sun, seeing the clouds, even the snow, is a very therapeutic exercise for some of our kids.
Bismarck Wellness Coordinator, Tal Pollert, helped the kids plant, grow, and harvest a huge garden this summer. They loved digging in the dirt and watching the plants grow from little sprouts just poking out of the ground to full-grown vegetables—which they harvested and gave to kitchen staff to include in their meals.
In Fargo, Wellness Coordinator, Christian Kjelland, took a group of kids to Maplewood State Park and also arranged a lake outing where the kids could ride in the boat, waterski, and play in the water.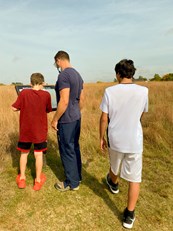 Gardening, swimming, cross-country skiing, hiking, biking, and exploring local parks are all ways the Ranch gets kids outside where they can experience the healing power of nature.
*Name changed to protect confidentiality
This article was originally published in Ranch Voice: Winter 2020.
---
Read more inspiring stories like this and explore other issues of Ranch Voice.