I had a visitor today.
A beautiful, tall, dark-haired, dark-eyed young woman looked shyly into my office with our front desk person beside her.
"Hi, Joy."
It took me a minute. I hadn't seen her for years, and she was no longer a gangly adolescent. She was graceful and calm. She was, however, most definitely the grown-up version of a young girl who frequently visited with me while she was a resident at the Ranch four years ago.
I am not going to enumerate the horrors this young woman has lived through… you might think I was making some of them up. It shouldn't be possible for one person to carry the trauma and physical pain and family dysfunction and loss that she has. But, she has.
"I still have the Bible you gave me," she said.
I don't usually give our kids gifts at discharge, and each child does receive a Bible or two (traditional and an "Action" graphic Bible) as part of their stay with us. However, this child and I talked a lot. I had a Bible I had written some notes in and she seemed to be drawn to it. It seemed important for her to have it.
We had a quick hug and she sat down. The four years since she has been with us haven't been easy. She has struggled to stay away from drugs and hasn't always been successful. More of her family members have succumbed to their own demons, so suicide is a recurring theme near her.
But, she is currently sober. She is seeing a therapist. She has a place to live, an employer, and even a fiancé'. She pays taxes and has not been in jail. She looks good, stands proudly, and speaks well. She has plans and dreams.
With all the upheavals in her life, I pondered why this young woman would make the time to visit Dakota Boys and Girls Ranch.
Last night I think I figured it out. Where do you go to "touch base?" Who do you tell how you're doing or hope they think about you? Where are those people who are pulling for you?
Home.
With all she has been through, Dakota Boys and Girls Ranch is a kind of home to her. It is a place where people think about her, pray for her, cheer for her, and believe in her. There may be no other place that has met that measure for her. My prayer is that she and her fiancé' can create a home for and with each other.
But for now, the Ranch is here, and we are proud of her.
Please keep our kids and staff in your prayers.
In His love,
Joy Ryan, President/CEO
Dakota Boys and Girls Ranch
---

You can raise funds for your congregation, Bible study group, women's group, or youth group, AND provide hope and healing for a child at Dakota Boys and Girls Ranch, by hosting a Honey Sunday.
For decades, congregations across the United States have held Honey Sundays. We invite you to join them — and bring God's love to a child by organizing a Honey Sunday fundraiser.
Honey Sunday keeps the focus on the work of our Lord, your church, and the Ranch. And we make it easy for you to do by sending everything you'll need. We'll even mail the honey directly to people's homes, so you don't have to worry about distribution.
To request your Honey Sunday materials, fill out the form here!
---
LEARN MORE ABOUT DAKOTA BOYS AND GIRLS RANCH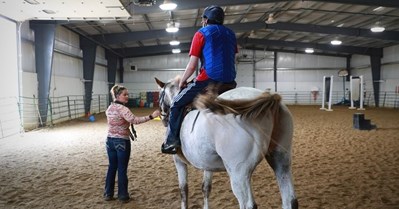 Minot Community Endowment Fund Supports Ranch Horse Program
---
Sign up today to receive ministry updates and stories about our precious kids directly to your inbox!