Occupational Therapy (OT) is one of the really important elements of treatment for children who are trauma survivors. At Dakota Boys and Girls Ranch, our OTs and COTAs (certified occupational therapy assistants) teach children how to understand and manage their sensory input to help them control emotions and reactions. Our OTs provide our kids with many tools — breathing techniques, light panels, therapeutic swings, handheld manipulatives, and even real, live horses!
Jordan Mooney is an Occupational Therapist on our Fargo campus. In spite of her time in graduate school and professional life, when you see Jordan with one of our kids, you might do a double-take! Jordan exudes a quiet youthfulness and humility. And, she is physically smaller than most of our kids. Her passion, faith, and compassion are outsized for her body, however! When she sent me the message I am sharing below, I could feel her grace in helping the kids find their best selves.
From Jordan, "Here are some sweet photos of a couple Ranch kids showing love to "Lady" at Jubilee.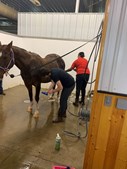 "A couple weeks ago, the flies were terrible. The horses were running wildly around the paddocks trying to escape the bites. While we would have normally have the kids go out to 'catch' the horses, the barn instructor informed us of the safety risk, stating, 'sometimes they (the horses) will even trample people when they are this irritated.' This illustration reminded me of the impact of trauma; how dysregulation makes it hard for our kids to distinguish what is right, who to trust, how to build healthy relationships, and effectively manage daily challenges. One of the horses even rubbed her tail to the point that part of her tail is now bald! The kids we work with are often wounded and may "trample" others as they seek to protect themselves or manage pain.
"The horses showed immediate relief as they entered the cool, indoor facility. The girls scraped off the crusted mud (horses roll in mud to protect from themselves from insects) and gave each of their horses a bath. They showed amazing teamwork, perseverance, and care as they worked (and laughed) together.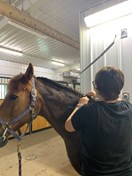 "I love the wisdom we can glean from creation. While we don't always see the immediate signs of relief or understand the underlying pain as kids enter the Ranch, our teamwork, perseverance, and care can break through the mud, bring relief, and empower our kids. I hope this little anecdote blesses you."
Yes, Jordan. The story blesses me and your work blesses the kids.
I am fortunate to work with amazing folks at the Ranch.
Please pray for Jordan, all our staff, and always the children at the Ranch.
In His love,
Joy Ryan, President/CEO
Dakota Boys and Girls Ranch
---

If you are a Thrivent Financial member, you may have Thrivent Choice Dollars® available to direct. Your Choice Dollars® can be directed to multiple organizations each year. Please consider choosing Dakota Boys and Girls Ranch as one place you direct your Choice Dollars®. All Thrivent Choice Dollars® are used to fund our Spiritual Life Program, giving our children the opportunity to grow in their faith and learn about their loving Heavenly Father. To direct your Choice Dollars® to Dakota Boys and Girls Ranch, go to Thrivent.com/thriventchoice. You can also direct your Choice Dollars® over the phone by calling 1-800-847-4836, and say "Thrivent Choice," after the prompt. The deadline is MARCH 31st, so direct your Choice Dollars® today!
---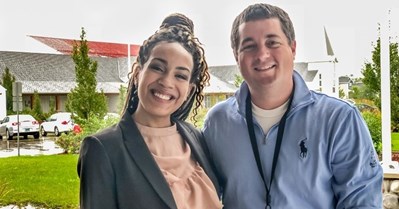 Resilience, Courage, and Success
---
To receive ministry updates and stories about our precious kids directly to your inbox, sign up here!