"My horse, Teddy, taught me how to love him and love other people. Just like Teddy, people are going to be stubborn. You have to compromise with them. You gotta give in a little bit and take a little back. I've learned so much from Teddy." -Megan, former Ranch resident
At the Ranch, we have known for years that horses help kids heal. Horses are highly sensitive and have a unique ability to read human emotions. Sometimes they provide comfort to a child who is anxious or depressed. Other times they mirror the child's emotions by backing away or becoming skittish if the child is feeling anxious or angry. This cues the child to identify their emotions, and to discover what they might be doing to make the horse feel unsafe.
Horses have grazed the pastures at Dakota Boys and Girls Ranch since the first six boys moved into the donated farm in Tolley, ND. Donors often ask if we have horses on every campus—the answer is "yes" and "no." We don't have our own horses on every campus, but we do make sure every child can benefit from their healing.
In Minot, we have our own 20-horse herd, while in Fargo and Bismarck, the Ranch contracts with local stables to provide riding lessons and equine-assisted therapy. Our Fargo Horse Program is through Jubilee Equine.
Fallon Ryan, an instructor at Jubilee, provides eight-week lessons for the children at the Ranch in Fargo. She works closely with the Occupational Therapist and Certified Occupational Therapy Assistants to provide a positive experience for Ranch kids.
"They learn everything from start to finish—going out to catch their own horse, grooming their horse, leading their horse around the arena, putting on the saddle and bridle, mounting the horse, and finally, riding."
Throughout the eight weeks of lessons, Fallon works with the kids to not only get comfortable with their horse and learn the appropriate skills, but to identify both their and their horse's emotions.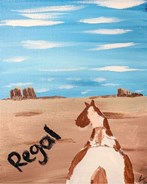 "My goal for each one of these kids," Fallon said, "is for them to be able to learn more empathy and to take responsibility. I teach them signs that indicate the horse isn't feeling well. As they begin to observe and respond to the horse's emotions, they can start applying some of the things they learn to identify their own emotions."
Fallon said the children also benefit from a sense of accomplishment when they learn to be more self-sufficient in caring for and riding their horse. "By the end of our sessions, they are riding in multiple speeds and gates, and doing several different maneuvers—all by themselves."
According to Fallon, who teaches about 25 lessons right now, Ranch kids are unique. "They are really special," Fallon said. "They're more willing and excited to learn than most of my other students. They are appreciative and caring. And they really understand where a horse is coming from if they are scared or a little stubborn that day."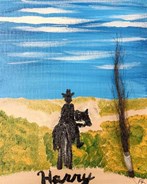 "Ranch kids are some of the most amazing people I've ever met."
At the last session of one of Fallon's most recent groups of Ranch kids, she gave each child a painting of their horse and a tiny lock of their horse's tail.
"That way they'd always have a piece of their horse. I had such a great time with this last group of kids," Fallon said. "They all learned so much and came so far. I'm just really proud of them."
This article was originally published in Ranch Voice: Summer 2021.
---
Read more stories like this and explore other issues of Ranch Voice here.