Marie Frye comes in early each morning to brew a pot of coffee for the Minot Thrift Store staff. This is a small act, but one that so many that work with her appreciate. It's telling of her care and love for the Ranch and the people she works with.
Marie was born in Helena, Montana, moved to Minot when she was 26, and has lived in North Dakota for the past 50 years. In April 2012, Marie was shopping at the Dakota Boys and Girls Ranch Thrift Store in Minot—a place she frequented with her mother, whom she was taking care of at the time. While at the store she saw a "volunteers needed" sign and made immediate plans with the manager to start volunteering the following week. Deciding to volunteer was a no-brainer for Marie as she wanted something fun to occupy her time and thought this would be a great way to help out.
An undeniable asset to the Minot team, Marie was named "Volunteer of the Year" four times in her nine years at the Ranch. She volunteers five hours each day, Monday – Friday, and her daily tasks always look different.
"Marie is very dedicated and will do any job she is asked to do. She will price, she will put out stock, she will clean, and she will even help with donations and write donor receipts. Marie is a key player on our team and helps us reach our goals," said Minot store manager, Ashley Benson.
When Marie was asked what she enjoys most, she answered by saying, "You mean other than everything?!"
Customers also have an appreciation for Marie and the knowledge she brings to the table. She is the in-store expert on linens, fabrics, window treatments, crafts, and sewing. She makes sure all the linens and fabrics that come into the store are measured and labeled correctly, which makes shopping much easier for customers.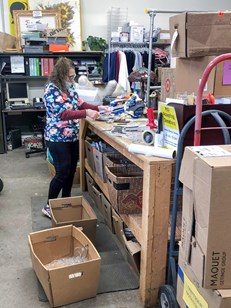 Though Marie likes her day-to-day tasks, what she enjoys most about volunteering is the people she gets to work with.
"I like being around people," she said. "The people here have such a positive attitude, and it makes work so much easier. You actually want to come in to work!"
The work Marie does at the thrift store helps support the greater mission of Dakota Boys and Girls Ranch: to help at-risk children and their families find hope and healing, and succeed in the name of Christ.
"I think the mission is awesome," Marie said. "It's good that we have something like this here in North Dakota because there are a lot of kids out there that need help. Here we are giving them something to look forward to that can help them heal and reminding them that if they put their faith in Jesus, they will come out on top."
Marie's love for volunteering and the Ranch is evident. It's something that's brought so much joy to her life and made her feel "absolutely wonderful." She wants others to experience this joy, so her advice to everyone looking to get involved is "don't just sit around at home, go out and volunteer!"


Interested in volunteering?
CLICK HERE