Jim Vetter, Vice President of Treatment Services and Government Relations, Dakota Boys and Girls Ranch, is the 2022 recipient of the Walt Odegaard Leadership Award, presented by the North Dakota Association of Nonprofit Organizations (NDANO).
Vetter has dedicated his entire career to the children and families of North Dakota, tirelessly working and advocating to improve the systems that serve North Dakota's most vulnerable children and their families. He started as a live-in houseparent at the Ranch 33 years ago, and now oversees nearly 200 staff who provide 24/7 care and treatment of children who have endured great trauma.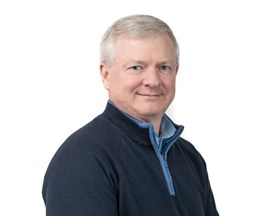 Vetter brings his expertise and commitment to children both to the Ranch and to the system level within the state. He has been involved in the state's migration to Qualified Residential Treatment Programs (QRTP), providing valuable insights into the needs and challenges of children. He serves as a voice for North Dakota children at legislative committee meetings.
Vetter is involved with many community boards and committees including the ND Association of Residential Child Care Facilities, the Board of Directors of Missouri Valley Coalition for Homeless People (MVCHP), the ND Dual-Status Youth Initiative Committee, the Bismarck State College Human Services Advisory Committee, and the ND Association of Nonprofit Organizations' Public Policy Committee. He was also appointed by Governor Doug Burgum to serve on the Governor's Prevention Advisory Council on Drugs and Alcohol (GPAC) and is a member of the legislatively-appointed Juvenile Justice System Planning Work Group.
Vetter is committed to making North Dakota a better place for them to live, learn, grow, and thrive.
Walt Odegaard Leadership Award
The Leadership Award is given to an individual who has made a difference by strengthening North Dakota and its nonprofit sector through his/her long-term commitment to leadership, volunteerism, and/or philanthropy. This award recognizes an individual's dedication and achievements throughout his/her lifetime. In 2007, it was renamed the Walt Odegaard Leadership Award in honor of one of NDANO's founders.
North Dakota Association of Nonprofit Organizations
Founded in 1997 by state nonprofit leaders, NDANO is the statewide membership association for North Dakota's nonprofit sector. Its members work in all mission areas, from human services and the environment to education and the arts. NDANO seeks to educate, advocate, and connect North Dakota's nonprofit leaders.
Dakota Boys and Girls Ranch
Dakota Boys and Girls Ranch is a Christ-centered residential treatment and educational center for children and their families. The Ranch helps the most troubled, complicated, and amazing kids in North Dakota by providing best-in-class psychiatric therapy and trauma-informed care. In addition to Residential Treatment Facilities in Fargo, Bismarck, and Minot, the Ranch provides Outpatient Psychiatric and Psychological Services, and Spiritual Life Programs. Its on-campus school, Dakota Memorial School (DMS), provides a personalized education for kids who have psychiatric, behavioral, and trauma issues.