nurse
/nərs/
a person who cares for the sick or infirm, specifically: a licensed health-care professional who practices independently or is supervised by a physician, surgeon, or dentist and who is skilled in promoting and maintaining health.
You probably don't need a dictionary definition to know what nurses do—they care for the sick. But that is just the tip of the iceberg, especially for nurses at Dakota Boys and Girls Ranch. Nursing is an integral part of the care Dakota Boys and Girls Ranch provides to children in residential treatment, and Ranch nurses wear many hats.
Nurses are teachers—teaching kids about proper hygiene, healthy eating, exercise, and the medications they are taking.
Nurses are parents—ensuring kids get routine medical care and listening to their worries and concerns.
Nurses are walk-in clinics—tending to their bumps and bruises, evaluating physical symptoms, and making sure they get a doctor's care when appropriate.
Nurses are crisis managers—assessing kids' suicide risk, creating safety plans, conducting drug tests, and managing high-risk incidents.
Nurses are a valuable and irreplaceable resource in promoting and maintaining the health of Ranch residents. Yet, the work they do and the reasons they do it are as unique as each of these wonderful Ranchers.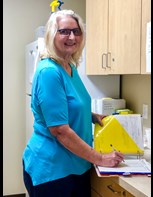 Delayne Watne, RN
Fargo, ND
Except for the first six months when she worked at the medical floor at St. Ansgar's Hospital, Moorhead, MN, Delayne Watne has spent her entire career in psychiatric nursing. She moved to the hospital's psychiatry floor, despite a co-worker's warning that she would "lose all her skills," and has been impacting children's lives for the better ever since.
Delayne said moving from adolescent psychiatry to residential treatment is a big change, but her experience at Dakota Heartland Hospital developing River's Edge, a residential treatment program for adolescents, left her well-prepared.
Delayne said despite the number of years she has worked at the Ranch and the increase in diagnoses, much has stayed the same over the years because children are still children and in need of constant care and support.
According to Delayne, one of the biggest challenges is getting to know the kids.
"As a nurse, it's important to be familiar with all of the kids—to ensure their needs are met, but also to advocate for them. Information in emails, verbal reports, client records, along with what the client and family report is essential to this process. Taking the time to get to know the kids we serve helps put the information in perspective and is a very rewarding part of this work!"
After all is said and done, "they really are just kids," Delayne said. "When I don't understand something they are doing, or am wondering what is going on with them, I just ask them. 'Tell me more about that,' or 'Help me understand.' They do a nice job describing what they were thinking and how they formed their perception of the situation. It's important to remember that many of the behaviors we observe are normal adolescent behaviors.
"Acknowledging their acts of kindness can quickly enhance their self-esteem, especially if they have spent most of their lives thinking they don't matter or that no one notices them or cares. They just want to belong. They want people to believe in them. They want to try new things and sometimes they haven't had the support they need to do that."
Delayne says the diversity of the Ranch team allows them to bring different perspectives to discussions about each child's care so they can get the support they need. "What I see in a child may not be what the therapist or case manager or occupational therapist sees, and that's how it should be. We all look at it from different perspectives which is essential to helping them heal."
Delayne semi-retired this past summer, but is grateful she can continue to work one day a week and assist with on-call rotation.
"I'm not going to say it's easy, but I have always loved working in psychiatry," she said. "Some people leave work and look for something fulfilling when they retire, but I've had that my whole life. I am blessed."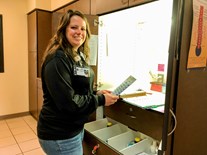 Heatthyr Haugeberg, RNBC
Minot, ND
Heatthyr Haugeberg, Director of Nursing at Dakota Boys and Girls Ranch, believes kids must have healthy bodies in order to heal their minds.
"That's what we do in nursing. We're the folks paving the way to make healing possible for kids. We coordinate their medical care and I cannot stress how important that is. I'm a firm believer that you can't have a healthy mind if you don't have a healthy body first," Heatthyr said.
It's common for children to come to the Ranch having never been to the eye doctor or dentist, or every having a physical. Ranch nurses get kids caught up on those preventative healthcare measures. They also deal with injuries, scraped knees, and tummy aches. And manage an incredible amount of medication.
At any given point in time, 97-98% of Ranch kids are on some sort of medication, some for mental health, but also diabetes, high blood pressure, and the bane of all teenagers, acne. Nurses oversee that entire program and teach direct care staff to administer those medications safely.
Heatthyr said working with children in psychiatric residential treatment is both a challenge and a joy. Nurses don't typically learn how to work with children or in psychiatric medicine in nursing school.
"In creating a psychiatric career, I had to put all those pieces together," she said. "I had to learn about mental health diagnoses, trauma work, and all the medications."
In addition to learning on the job, Heatthyr completed additional training and testing to become board certified in psychiatric and mental health nursing, giving her the RNBC credentials.
"As far as working with kids, I had to learn patience and grace and how to allow them to just be kids. I love the kids. Just the other day I got a graduation card from a boy that lived in Cornelsen cottage years ago. I think it's so cool that somehow, without me even knowing it, I touched him so deeply he sent me a graduation card."
The COVID-19 pandemic created unique challenges for the nursing staff. "Nobody had a step-by-step plan of how this was all going to pan out. We were never set up to be an acute medical care facility, so we didn't have things like masks, thermometers, gloves, or face shields. The nurses all worked really hard to secure the personal protective equipment we needed."
After the kids, Heatthyr said the best part about working at the Ranch is the time and energy staff put into each other. "I've never felt that before in an organization. I don't feel like a number. I am respected. I am supported by everyone at the Ranch and I think that's really meaningful for our employees."
Heatthyr earned her nursing degree at Minot State University and is now attending graduate school through the University of Mary. She expects to graduate with a master's degree in nursing leadership and management in December 2020.
Heatthyr, along with her husband and son, are active in the Taekwondo community in Minot.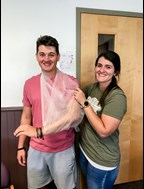 Ashlee Hazen, RN
Bismarck, ND
Ashlee Hazen has always wanted to be a nurse. Her mom worked in a clinic and, as a child, Ashlee went there a lot to see her. Her first nursing job was in the emergency room, and then she worked in an outpatient adult mental health setting until moving from Dickinson, ND, to Bismarck and joining the Ranch. She says her other jobs gave her the skills she needed to be successful at the Ranch.
"Communication is an important skill to have in this job," Ashlee said. "You have to ask questions in a way that makes sense to the kids. And you must be a good listener. You have to give the kids a chance to explain themselves."
Ashlee said the most difficult part of being a nurse at the Ranch is the behaviors of the kids. "You want them to do this or that, and if their mind is set on something different, you have to try to understand where they are coming from. You have to be willing to set your expectations aside and mold to what they had in mind."
And the best part? The kids.
"Every one of these kids has a desire to thrive," Ashlee said. "We have to figure out how to break down their walls to help them do that. When they are being challenging or defiant, you have to remember what they've been through. They are human beings and regardless of the trauma or bad experiences that brought them here, they feel love, compassion, and empathy for others. It's our job, along with the other professionals here, to bring those characteristics forth."
Ashlee and her husband have two children, ages two and four. They live in Center, ND, where they have chickens and horses. In her spare time, Ashlee likes to work out, cook, read, and spend time with her family and friends.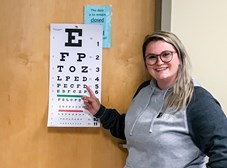 Samantha Jahner, RN
Bismarck, ND
Samantha Jahner has been drawn to nursing since fourth grade. Her deep well of caring and a desire to help others made it a perfect career choice. But she didn't expect the overall sadness, the heartache, that comes with being a nurse.
"My first job was taking care of kids with cancer. We talked at nursing school about death and dying, but you don't think of that for kids. And then I came to the Ranch. It's heartbreaking to see what these kids have been through—abuse, trauma, drugs, alcohol, abandonment. You don't realize it's a real thing until you see it firsthand."
Fortunately for Sam, knowing she is making a difference outweighs the heartache.
"I feel appreciated," she said. "I matter here. There's nothing like hearing the kids say, 'Where's Sam?' 'Does Sam work today?' or having them reach out to me because they want to talk. Just yesterday a former resident called. He wanted to talk to all of us just to let us know he was doing well. Those are wonderful things."
Day to day, Sam said Ranch nurses do a variety of things. They make appointments to keep kids up to date on their medical, dental, and eye appointments, care for them when they complain of a stomachache or headache, and monthly, create the Medication Administration Records (MARS) for each child. The MARS lists a child's medications along with the dosage of each, the time it's to be administered, and the reason they are taking it. Nurses are also available to answer the children's many questions.
"The kids come to us a lot," Sam said. "They are very interested in their medications and want to know all about them, which is good. It's good for them to learn about the medications they are taking."
Sam is eager to learn and has taken the required training on administering medications, doing suicide assessments, and learning to work with kids in a psychiatric setting. She also watches and learns from her fellow nurses.
"I don't want to do or say the wrong thing or make the situation worse. Yesterday we had a young many who was really upset. I stepped in to take over for one of the youth care workers and quickly realized that the young man wasn't open to talking to me. He saw us as the bad guys. I kept him in line of sight [to make sure he stayed safe] and gave him time to realize we were on his side. I learn something from every situation.
"I love the Ranch mission and I love that it's centered around God, and that we pray before meetings. I think all of those were things I really needed in my life. Working here has really helped me find myself."
Sam grew up on a dairy farm near Center, ND. She owns a home (a fixer-upper with lots of projects) and lives there with her husband, dog, and cat. She loves the outdoors and can often be found on the Missouri River kayaking or fishing with her husband.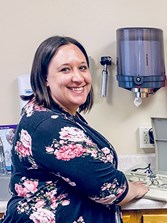 Nicole Reyes, RN
Minot, ND
Nicole Reyes went to nursing school after being an Air Force Medic for ten years.
"I love caring for people and I love medicine and science. I joined the military when I was 19 and had always wanted to get more education. So, after my third child, I decided to get out of the military and go back to school."
She said the main focus of her job as a nurse at Dakota Boys and Girls Ranch is to care for the physical and mental health needs of the children.
"Both are extremely important, and you can't have one without the other," Nicole said. "Many of our kids have chronic medical conditions, like encopresis (loss of bowel controls), which is often caused by trauma and psychiatric issues. Chronic pain, headaches, and stomach pain are also common complaints that don't often have a physical cause because they are more related to what is going on psychologically. It's hard because the pain the kids feel is real and they want you to fix it."
Nicole recalls another child who had a seizure disorder. "It looked just like epilepsy but it's pseudoseizures," she said. "He had no control over it, but it was stemming from severe trauma."
The most challenging moments, Nicole said, are when the kids are in so much emotional pain and distress and you don't know what you can do to help. "You can see the pain in their eyes. Some kids are suicidal and it's just really difficult. I have to remind myself that that's why these kids are here and it's not all up to me. We have a whole team to work with them, and it takes time."
Getting to know the kids makes up for the challenges, and Nicole wouldn't want to be anywhere else.
"This is the best job I've ever had. Through the nursing office window, I can see the kids outside riding their bikes, roller skating, playing with chalk, and just being kids. Those are the best moments for me," Nicole said. "They are a bunch of really amazing kids who've had really hard lives and just need extra help. I love getting to know them and seeing their personalities outside of all the hard stuff."
Nicole, who lives in Minot with her husband and three kids, is grateful for the donations people give to support Ranch kids. "I see the donations being put to use for these kids every single day. A lot of the kids come from nothing. Here they have clothes and food and everything else they need. The only reason we can be here serving these kids is because [our donors] have a big enough heart to donate and to help."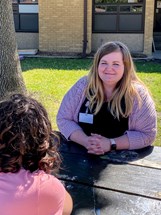 Kira MacKay, RN
Minot, ND
Kira MacKay, Nursing Coordinator on the Minot campus, is "Mom" to about 46 kids at any one time—scheduling medical appointments, keeping their vaccinations up-to-date, monitoring medications, assessing bumps and bruises, and more.
She is also Nursing Coordinator on the Dakota Boys and Girls Ranch Minot campus, which entails supervising and scheduling the other nurses in Minot. She is in the middle of additional training and testing to become board certified in psychiatric and mental health nursing.
Kira said nursing at the Ranch is different than any other nursing job. "I don't have a checklist of things to do when I come to work. There are certain things I do every day, but my focus is on what the kids need. Working here requires more critical thinking, seeing the big picture, and figuring out how to help these kids where they're at."
She uses her critical thinking skills to meet their needs in a way that honors and respects their wishes.
"One of our boys had an appointment with our psychiatrist and refused to go," Kira said. "So, instead I went to his cottage, sat on his bed, and we joined the appointment using my laptop.
"The boys in Cornelsen pull at my heartstrings. They are our youngest residents and range from age 10-14. They are just little boys, as you can tell when you go into their rooms and see Legos and Pokemon cards. I get to see them when they come in and the changes they've made by the time they leave. That's why I work here."
Kira recently saw a former Cornelsen resident out in the community and was thrilled to see how he and his mom were doing. "Seeing his mom's smiles and him looking so good really warmed my heart."
Kira lives in Minot with her family, and in her spare time likes to work on home projects like cleaning, organizing, and decorating.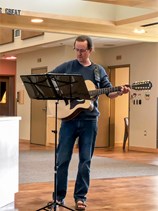 John Mehlhoff, RN
Fargo, ND
John Mehlhoff, Nursing Coordinator on the Fargo campus, came to a nursing career in a roundabout way. Years ago, he was a pizza delivery driver and one of his friends was a Certified Nursing Assistant—he started wondering why he had to borrow money from her all the time. He got his CNA certificate and worked many years in a dementia unit before deciding to go back to school to be first a Licensed Practical Nurse and then a Registered Nurse.
Before joining the Ranch, John worked in an outpatient psychiatric facility where they served the most chronically mentally ill and addicted people in eastern North Dakota. He was confident in his psychiatric skills but was concerned about working with children. He soon learned it was a great fit.
"I just find it not only incredibly meaningful, but it is so much fun," John said. "I mean, the things the kids say and watching their growth while they're here is fantastic. They are easier to work with than adults because they don't lie as easy. They can't cover their feelings as well."
He also enjoys the residential part of the job that allows him to get to know the kids and see how they progress. "It's not like in the ER when you stabilize someone and then they leave, and you never know how their story ended. That part is really rewarding for me."
John recalls a young girl who came to the Ranch without anywhere to go to when she completed treatment.
"She ended up being here longer than other kids. It was hard for her to see other kids leave when she had to stay and keep meeting new people."
The evening of this resident's last medication review (before she was going to discharge), John spent the evening with his mom and his kids. "I drove home separately and wept the whole way home, just knowing how good my kids have it. And thinking of this gal who was finally being discharged to a family that was perfect for her."
One of John's goals is to provide customer services to the other departments. "I want the youth care workers and supervisors and our team to be almost one. I like that we are getting better at asking each other for help."
He also shares his own talents with Ranch kids by bringing in his guitar and playing for them.
"Nurses do so much at the Ranch," John said. "You are part parent, part walk-in clinic, somewhat of a behaviorist, and you also work with addiction and actual psychiatric nursing. It's a wonderful combination."
"I can't think of a better place to work," John said. "It's like a dream."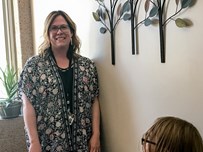 Heidi Swenson, RN
Bismarck, ND
When Heidi Swenson, Nursing Coordinator on the Bismarck campus, started working at the Ranch, one of the first things she had to learn was to speak "teenager."
"My kids were young when I started at the Ranch, so knowing how to work with that age group was something I had to build—just knowing some of the nonverbal communications and cues you get from kids," Heidi said. "In my previous jobs at the hospital, I did a lot more hands-on, technical-skill type nursing. Working at the Ranch requires the ability to build rapport with the children so they are comfortable coming to you with their concerns."
That rapport is especially important when she completes suicide risk assessments. "We get kids who are suicidal or hallucinating. Knowing the child really helps us complete the assessments," Heidi said.
Despite being in a psychiatric treatment facility, Ranch kids are just like any other kids. "All of our kids have at least one mental health diagnosis, but at the heart of it, they are just kids," she said. "They want to be with their friends, go to the movies, and play sports. Despite the trauma most of them have experienced, they just want to be successful."
In addition to taking care of their medical needs, assessing injuries, and managing their medications, Heidi said nurses attend Clinical Care Review (CCR) meetings, where the entire care team comes together, along with the child and family, to answer questions, address any concerns, and adjust the child's treatment plan as needed.
Nurses work evening hours and are on call on every campus 24 hours a day, 7 days a week.
"Just like everyone else, our kids have good days and bad days. They are awesome. They're the reason I would rather be here than anywhere else."
Heidi is working on her master's degree in Leadership and Management in Nursing while she and her husband raise their two children. When she isn't studying or spending time with her family, she likes to garden and read.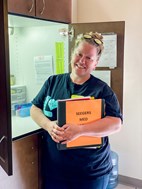 Alyssa Edwards
Minot, ND
Alyssa Edwards brings a unique perspective to her work at the Ranch. As a child, she experienced her own trauma that began when she lost her dad to suicide.
"Mom worked two jobs and was never home. And then she met a boyfriend and it felt like she put my brother and I on the back burner to focus on her relationship," Alyssa said. "There was a lot of rebellion and delinquency. I spent a lot of time with juvenile services—on house arrest, having to take drug tests, and going to outpatient therapy."
Eventually, Alyssa was placed at Oppen Home in Minot, a residential facility that no longer exists.
"It took me two months to realize I wanted to go home and get my stuff together. And after that, I was really successful. I went to a national competition for DECA two years in a row."
After graduating from high school with honors, Alyssa worked in an office for several years before applying for a job at the Ranch.
"I wanted a job with purpose and to make a difference in kids' lives," Alyssa said. "I wanted to be a supportive adult for kids who were pretty much like I was as a youth. I just thought there was more to life than sitting at a desk."
She provided direct care before the opportunity came up to become a nursing assistant. As a nursing assistant, Alyssa schedules preventative health care appointments, administers drug testing when kids come back from off-campus visits, completes continued stay review for North Dakota Medicaid, teaches Mental Health First Aid, and assists the nurses.
Alyssa said the hardest part of her job is reading and hearing about the kids' past trauma experiences.
"It breaks my heart to see them acting out, knowing they don't want these things to happen," Alyssa said. "They want to be successful kids. When you know their history and background, it completely makes sense why they're here and why they do the things they do. I have a son myself and I can't imagine any of these things happening to him."
One of the ways Alyssa takes care of herself so the pain doesn't get her down is to go home and love her son as hard as she can.
"The best thing for me," Alyssa said, "is to spend time with him. It makes me wish I could take all the Ranch kids home."
This article was originally published in Ranch Voice: Summer 2020.
---
Read more stories like this and explore other issues of Ranch Voice here.