Louis C. Butt, and his wife, Ida Mae, are legends in Dakota Boys and Girls Ranch history. They farmed and ranched outside of Tolley, ND, and were one of the first couples to open their home to the boys who needed a place to lay their head. Their home became the first physical location of Dakota Boys Ranch when the family donated their farm and ranch.
The last time I was at our Minot campus (before COVID-19 restricted travel), I came across a Christmas letter Louis wrote in 1966. It shows the heart and humor of the type of man who would open his home to ten challenging boys! The faith, love, and openness he and Ida Mae shared with these children still inform our work today.
From Louis Butt, trustee of Dakota Boys Ranch, Christmas – 1966:
"As we grow older, more of us turn to prayer. If you have trouble editing or composing your prayers, we suggest that you try this one, author unknown:
'Lord, Thou knowest better than I know myself that I am growing older and will some day be old. Keep me from the fatal habit of thinking I just say something on every subject and on every occasion. Release me from craving to straighten out everybody's affairs. Make me thoughtful, but not moody, helpful, but not bossy. With my vast store of wisdom, it seems a pity not to use it all, but Thou knowest, Lord, that I want a few friends at the end.
'Keep my mind free from the recital of endless details; give me wings to get to the point. Seal my lips on my aches and pains. They are increasing and love of rehearsing them is becoming sweeter as the years go by. I dare not ask for grace enough to enjoy the tales of others' pains but help me to endure them with patience.
'I dare not ask for improved memory but for a growing humility and a lessening cocksureness when my memory seems to clash with the memories of others. Teach me the glorious lesson that occasionally I may be mistaken.
'Keep me reasonably sweet; I do not want to be a saint – some of them are so hard to live with – but a sour old person is one of the crowning works of the devil. Give me the ability to see good things in unexpected people. And give me, Lord, the grace to tell them so. Amen.'"
Reading this prayer, I feel the heart of this man. Louis and Ida Mae were the types of people who stepped boldly forward. They served the Lord and the precious children on a path of mercy we still follow today.
In His love,
Joy Ryan, President/CEO
Dakota Boys and Girls Ranch
---
You can transform the life of a hurting child through your monthly support.

Every week, children come to the Ranch who have endured unspeakable pain, crushing academic failure, abandonment, or abuse. You can share hope with a child who has been broken and hardened by their tough life experiences and bring them healing in Jesus. Become a Honeycomb Partner today, and your monthly gift will ensure boys and girls at the Ranch find healing, overcome serious psychological challenges, succeed in school, and give them the chance to meet Jesus and know His love, grace, and forgiveness. To find out more, click on the link below.

---
CHECK OUT OUR BLOG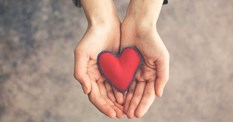 Do Not Grow Weary of Well-Doing
---
To receive ministry updates and stories about our precious kids directly to your inbox, sign up here!