A very long time ago, when I was in a different role in a different career, I attended one of the most interesting presentations of my professional life.
I walked into the meeting room of a large hotel in Kansas City, Missouri. At the front of the room was a clothesline strung across the middle of the elevated platform stage. It stretched for probably 30-40 feet. Hanging on the clothesline by old-fashioned wooden clothes pins were many pages of white 8X11" paper with rudimentary drawings, obviously done quickly and by the same hand.
A couple of minutes past the scheduled start time a man, who immediately reminded me of George Carlin, walked onto the stage. He had long, unruly hair, was very thin, and had a slightly hunched posture and an expression of childlike wonder. It was clear we were in for something unconventional.
Gordon MacKenzie was, at that time, the "Creative Paradox" at Hallmark Cards. Yup, that was his real title. You can see it on the back of his book "Orbiting the Giant Hairball," although I doubt you will find the book in print. It was a long time ago and Gordon has since died.
He started the session by explaining to us that he had learned all his important life lessons through stories and snippets. When he was asked to speak at the conference he wanted to share all that knowledge with us. So, as a visual person, he drew little representations of each story on an index card and tried to arrange them into a cohesive, well-put-together, sensible business presentation.
It didn't work.
What he realized, he said, was that life wasn't a cohesive, well-put-together journey. The stories came out of order and at unexpected times. They didn't necessarily build on each other, but rather stood alone as life lessons. So, instead, he sketched bigger versions of his scribbles and hung them on the line. We in the audience were to yell out what picture we wanted to hear about and he would tell the story and what he learned from it. There was the story of giraffes giving birth standing up, and a drawing of his trademark giant hairball, both of which had an impact on me.
But it was the blank piece of paper that left the greatest impression.
He asked us to imagine that God spoke to us before we were conceived. He would tell us about this adventure on which we were about to embark. How we would soon grow legs and arms and then, being very small, we would join a place with giants. But before that journey, God would hand us a blank canvas and say "We will see each other again very soon. But, while you are on the other side, would you do me a favor?" Of course, our answer would be "Yes." Then He would hand us a blank canvas and ask, "While you are on the other side, would you paint me a masterpiece?"
Gordon said that society and the good people around us often want us to paint by number… and for Pete's sake, STAY IN THE LINES. But, that wasn't God's hope. He gave us a blank canvas to create a masterpiece.
The kids at Dakota Boys and Girls Ranch have canvases that other people have smeared and dirtied. They carry around canvases that have imprints and stains made by the traumas and pain they have experienced. But, there is a great thing about a painting. It isn't completed until the artist says it is done. With really hard work and dedication, a child can paint over the discolorations on their canvas. They can add color and shapes and beauty of their choosing. They simply need to learn that the canvas is theirs on which to paint. Anything anyone else put on there is only a part of their masterpiece, and they can decide how much of the canvas it covers. And when they are using all the colors they choose and adding the details and the beauty, then they can say:
"The painting is finished. It is a masterpiece."
Thank you for helping the children at Dakota Boys and Girls Ranch become strong enough to hold their paintbrushes. Please keep our children and staff in your prayers.
In His love,
Joy Ryan, President/CEO
Dakota Boys and Girls Ranch
---

You can transform the life of a hurting child through your monthly support.
Every week, children come to the Ranch who have endured unspeakable pain, crushing academic failure, abandonment, or abuse. You can share hope with a child who has been broken and hardened by their tough life experiences and bring them healing in Jesus. Become a Honeycomb Partner today, and your monthly gift will ensure boys and girls at the Ranch find healing, overcome serious psychological challenges, succeed in school, and give them the chance to meet Jesus and know His love, grace, and forgiveness. To find out more, click on the link above.
---
LEARN MORE ABOUT DAKOTA BOYS AND GIRLS RANCH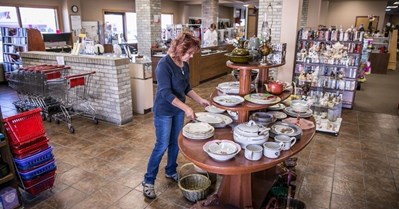 Dakota Boys and Girls Ranch Thrift Stores
---
Sign up today to receive ministry updates and stories about our precious kids directly to your inbox!