The education our kids receive at Dakota Memorial School is an integral part of the services we offer, both to our kids in the residential program, as well as to our Day Students from the surrounding communities. The paraprofessionals (paras) in our schools are a critical component to the provision of exceptional special education services and support. They are an important aspect of the Trauma Learning Culture at Dakota Memorial School (DMS), as they model a positive and encouraging attitude. At DMS, paras help students learn academic and social skills, encourage positive behavior, and provide one-on-one instructional assistance to students under the supervision of a qualified teacher.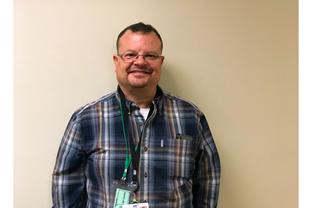 My name is Chuck McWethy and I am a paraprofessional at the Ranch in Fargo. This is my first year working at Dakota Memorial School. I earned a degree in Business Management from Arizona State University.
Three fun facts about me: I enjoy scuba diving, I jumped off the Stratosphere in Las Vegas, and I went volcano surfing in Nicaragua.
My favorite moment at Dakota Memorial School this year is working with two specific students on ideas for adding additional items to the school store. They have taken the idea; researched appropriate items; sent out a school survey; set up a meeting with the principal, facilities manager, and Dean of Students to discuss ideas; and will continue to take steps in learning about ordering, inventory, sales, and profits, along with repayment of an initial loan. It is exciting for me to see them engage in an idea and see the wheels turning as they learn and ask questions.