The education our kids receive at Dakota Memorial School is an integral part of the services we offer, both to our kids in the residential program, as well as to our Day Students from the surrounding communities. The paraprofessionals (paras) in our schools are a critical component to the provision of exceptional special education services and support. They are an important aspect of the Trauma Learning Culture at Dakota Memorial School (DMS), as they model a positive and encouraging attitude. At DMS, paras help students learn academic and social skills, encourage positive behavior, and provide one-on-one instructional assistance to students under the supervision of a qualified teacher.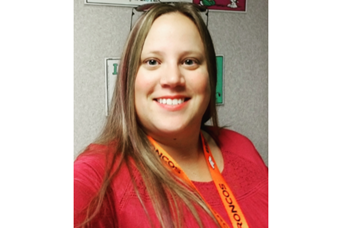 My name is Jen Beach. I have worked at Dakota Boys and Girls Ranch since April of 2014. I started working as a Youth Care Worker in Cornelsen Cottage on the Minot campus. I loved working in the school and jumped at the chance to become the Elementary Para. This is my 5th school year at Dakota Memorial School. I feel like I have found not only what I love doing, but what I was meant to do!
I have earned two college degrees, the first in Interior Design and the second in Human Services. I am currently going to school again and pursuing a dual degree in Special Education and Elementary Education.
 Three fun facts about me:
-I'm a proud Montana girl. I grew up in a small town in Northeast Montana and my graduating high school class only had 11 kids!
-I am a die-hard sports fan! I love the Denver Broncos, Colorado Avalanche, and the Colorado Rockies. I also love to play golf with my husband in the summer
-Over the summer, I completed a Sprint Triathlon in honor of my mom who passed away in 1999 from brain cancer
 I love the people I work with every day. We all work together to create a caring and fun environment for the students. By creating this type of environment, we can establish and grow relationships with the students, which enables us to help the students when they are having a rough day.
 This year, I have been able to share my love of art with students and it's been a joy! It's very rewarding to see how proud the students are of the artwork they create. One of the students stated that he "hates art and can't do it." But he has learned that he is actually really good at drawing and even said, "Art's OK now." I can tell he really likes art now even if he won't admit it!