When it comes to overcoming challenges, Helen Keller (1880-1968) set the bar quite high. She was a lifelong learner, teacher, inspiration. She danced, laughed, wrote, and loved. She was deaf, blind, and had great difficulty speaking.
And, she changed the world and the way we view the potential of those with special needs. Her teacher and best friend, Anne Sullivan, who was herself blind and parentless, instilled a sense of hope in the young Helen. Anne had a persistent hope that guided Helen into her future.
Helen said, "Optimism is the faith that leads to achievement. Nothing can be done without hope and confidence."
It is that belief in the power of hope that led Dakota Boys and Girls Ranch's Spiritual Life staff to launch the "Hope Notes" initiative years ago. By simply spending a few minutes writing a note of encouragement, you can help a child heal.  You can send your message electronically at https://www.dakotaranch.org/ways-to-give/hope-notes-2.
The words you choose are unique to you, and maybe just what that one child needs to hear! Thank you for considering sending a little hope!
Click here or on the photo below for a video of Ranch kids reading a few of the notes they received from wonderful and supportive people across the U.S.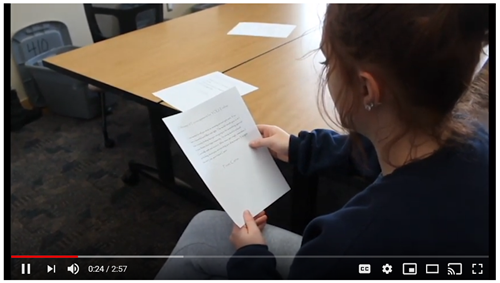 In His love,
Joy Ryan, President/CEO
Dakota Boys and Girls Ranch