The education our kids receive at Dakota Memorial School is an integral part of the services we offer, both to our kids in the residential program, as well as to our Day Students from the surrounding communities. The teachers who come to work each day to provide an education for our students are some of the most special people. We wanted to give them a space to share stories of their experiences in the classroom, so we are excited to present to you: Teacher's Corner.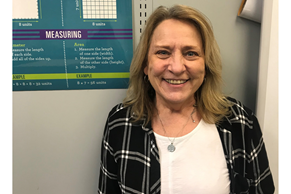 My name is Jacqueline Johnson and I am a 7th and 8th-grade math and social studies teacher at Dakota Memorial School located on the Dakota Boys and Girls Ranch campus in Minot, ND. I am nearing retirement age, but I am not really looking forward to it as it reminds me of how quickly I am aging. But more than that, I truly love this job!
I earned a master's degree in Special Education, specifically Deaf Education. I have been teaching for about 20 years after attending college when I was 38-years-old and became a single mother.
I have three grown sons, six grandchildren, and one great-grandchild. They are all healthy and happy, for which I thank God every day. They are the light of my life! They all live in cities other than Minot, so one of my favorite things to do is travel to spend any time I can with them.
I was asked to share a time when I've witnessed perseverance in my classroom. I was having trouble thinking of a really good example, so I asked my colleagues for ideas. Robert* was mentioned. He is one of my students this year and I remember he came the first day acting all "tough" with a sneer on his face, which seems to be permanent. I didn't understand why they thought he was such a good example. They asked if I remembered him from last year. I hadn't really because Robert started in our elementary school, so I hadn't had any experience with him. They told me how he had to be escorted from the classroom regularly because of his disruptive behaviors. He seemed to hate this school and everyone in it; maybe even himself. On several occasions, he had to be taken back to the cottage because he was out of control.  I didn't realize Robert was that kid!
Because Robert is a resident here, he receives therapy on a regular basis. He also has the constant support of his cottage staff. Our students spend a lot of time with their cottage staff and strong relationships typically form. They become like family, with staff looking out for their needs. These two factors seem to have worked wonders for Robert. He still comes to class with a sneer on his face, but he rarely has to be escorted out of the classroom. In fact, now if he gets extremely upset because he's struggling to understand something, we call someone from the cottage and he walks out without a fight. He generally returns to class, ready to get back to work, after a short sensory break. He seems to channel his anger into motivation, and he's willing to ask for help.
He's doing well academically and I think Robert realizes he is much more capable than he had been led to believe. I've even noticed a slight smile that he tries to hide when he's done a task successfully, which only seems to drive him to work harder.
*Name changed to protect confidentiality.