The education our kids receive at Dakota Memorial School is an integral part of the services we offer, both to our kids in the residential program, as well as to our Day Students from the surrounding communities. The teachers who come to work each day to provide an education for our students are some of the most special people. We wanted to give them a space to share stories of their experiences in the classroom, so we are excited to present to you: Teacher's Corner.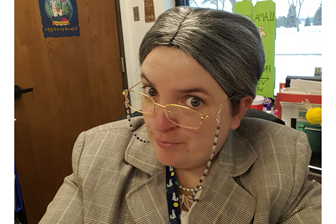 My name is Adrianne Keeney and I am a social studies teacher at Dakota Memorial School located on the Dakota Boys and Girls Ranch campus in Minot, ND.
I earned a bachelor's degree in history and geography. I have been teaching for 13 years, four of those in North Dakota.
I love being a teacher and a mom. Traveling is one of my hobbies, especially going on road trips. A fun fact about me: I can wiggle my nose like a bunny.
In the culture our kids are growing up in, it is more important than ever to be creative in how we connect with the kids in our classrooms.
As a social studies teacher, I have always loved bringing history to life. It may be in the past, but it doesn't have to be "dead" or boring. In my 2nd full year of teaching, I was struggling to do that. I taught in an urban district in which approximately 90% of our students came from low socioeconomic backgrounds. I decided to try something new and began to do classroom transformation, where I covered my classroom with era-appropriate decor and dressed in costumes to match. It was amazing to see the difference. Kids who had never interacted before began to show an interest and it helped motivate the kids as their conduct determined the frequency and level of future "rooms."
Not every student liked the rooms, but it definitely made an impact. Years later, students and teachers would report about discussing one of these topics in another class and there was always a student that would mention how they learned it in my room. Even now, as a self-contained teacher, my para and I continue to use creative costumes and dress to get the students involved. They love to participate and I often hear them say that they had to come to school just so they could see what we are wearing. It makes discussing social/emotional topics and making connections easier, even if our "cheese" makes them groan sometimes!