The education our kids receive at Dakota Memorial School is an integral part of the services we offer, both to our kids in the residential program, as well as to our Day Students from the surrounding communities. The teachers who come to work each day to provide an education for our students are some of the most special people. We wanted to give them a space to share stories of their experiences in the classroom, so we are excited to present to you: Teacher's Corner.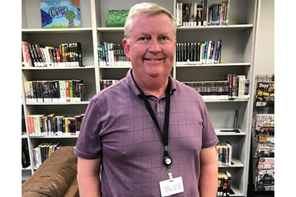 My name is Todd Fjeldahl and I have been teaching at Dakota Memorial School for the past 14 years. My career at Dakota Boys and Girls Ranch began a little over 25 years ago when I was hired in Challenge Cottage.
I have a BSE in Business and Office Education, as well as an MSE in Technology and Engineering.
Three fun facts about me:
1. I collect farm toys, garden tractors, and Lionel Trains
2. I have been the Program Director for the only NYPUM Program in the state for the past 20 years
3. I have an artificial heart valve
Every year in my Financial Literacy class, we complete a unit in investing. The scenario is that the students have $10,000 to invest. At the end of 30 days, the students sell their stock to see how much they made (or lost). We check the progress of their investments once per week. Of course, I stress to the students that investments are meant to be long-term and, usually, people don't check their investments on a weekly basis.
There have been a couple of situations over the years where a student or two really engage in the activity and are fully vested. One example is where a student graphed his progress and was busy looking into ways to increase his investment. He weighed out the effects of selling stock that was doing well in order to purchase more shares of lesser producing stocks. I was very impressed that he took the project a step further than I asked, taking the initiative to better himself and his investment.