I recently attended chapel at the Ranch.
That's not really newsworthy. We have chapel services on all of our campuses at 4:30 p.m. every Thursday. I like to attend whenever I can, and when I do, I always leave feeling pretty grateful for where I work, the people I work with, and the children we serve. Seeing the kids and staff in chapel helps me continue to believe in the good in the world, and God's love.
This particular Thursday, Chaplain Rick Jones led the spoken worship, and Deaconess Kelly Bristow led the music ministry. As is our custom, children who wanted to form a choir were invited up front to sing with Deaconess Kelly. Those who wanted to light candles or read scripture out loud were invited by Chaplain Rick.
Four of our girls formed the choir. They all, coincidentally, had long, lovely dark hair and were about the same height. (They ranged in age from 12-16, but kids grow at different rates!) They actually looked like something of a "girl group." They sang very quietly and shyly and mostly on pitch. It was brave of them to volunteer.
While they were up front, my eyes went to their shoes.
Two of the girls had on regular middle school girl sneakers. The other two girls were wearing "safety shoes."
When a child in our care is struggling to overcome self-harming behaviors or suicidal thoughts, it is an all-out effort to keep them safe. Trauma, pain, depression, and anger can make people very creative. Shoe laces, grommets, just about anything can become tools. Safety shoes are slip-on pliable plastic shoes that can't be used to self-harm. They are an extra precaution—and I'm told they are also quite comfortable!
As I looked at these brave girls, singing praise to our Lord, their shoes reminded e of the honor we have in being on this journey with them. They come to us unsure they are worthy of love or that they have any value. In their dark moments, they cause themselves pain. BUT, as they work to heal, they start to share their gifts of song and smiles and love.
And when they begin to feel they belong in this world, they wear sneakers.
Please pray for our kids and staff.
In His love,
Joy Ryan, President/CEO
Dakota Boys and Girls Ranch
---

Brighten Christmas morning for a child at the Ranch by sending Christmas blessings.
❤️💚It's Christmas time again and we need your help! It's been a hard year and we want to spread Christmas cheer to each of our kids on Christmas morning💚❤️
Fill out the form here to send Christmas wishes to one of our amazing, precious children. And don't forget to share with your friends, so they can help too!
---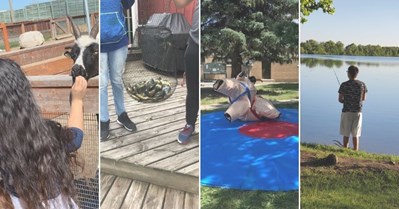 Keeping Ranch Kids Busy During a Pandemic
---
To receive ministry updates and stories about our precious kids directly to your inbox, sign up here!