Individualized Education for children with complex learning needs

When 15-year-old Jacob came to the Ranch, he was way behind in school. At the Ranch, Jacob has the support he needs to manage his emotions and focus on his goal of graduation.
I'm actually getting help from the teachers... if I have a stressful day, I can turn to them and they'll listen. From day one, they have been pushing me to do the work.

          ~ Jacob, 15-year-old at the Ranch
Operating in Minot, Bismarck, and Fargo, Dakota Memorial School (DMS) provides individualized educational programming for students ages 10 –18 who have been admitted to the Dakota Boys and Girls Ranch for residential treatment, or who live in the surrounding community and attend the day school. DMS is a K-12 accredited private school district staffed by North Dakota-certified teachers and administrators, para-educators, and support personnel. The school is accredited by both the North Dakota Department of Public Instruction and Cognia.
At DMS, each student's education is individualized to meet their needs. With research-based assessments upon enrollment, students are placed in classes aligning with their academic levels and goals. Elementary and middle school students are promoted to the next grade, while high school students earn credits toward graduation. A formal graduation ceremony is held each spring to recognize students who met the requirements to earn a high school diploma.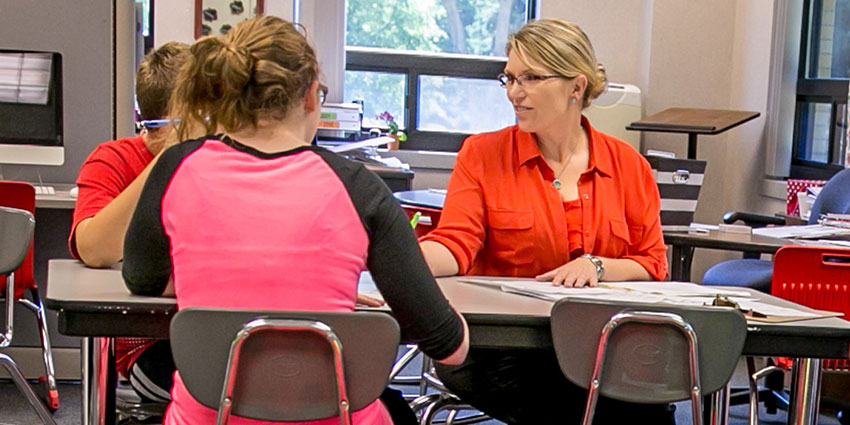 Dakota Memorial School is a trauma-sensitive school, which:
Helps each student reach their full potential.
Results in increased academic achievement and test scores.
Provides an enhanced school and classroom climate, which results in less bullying and harassment.
Provides emotional security for anxious students, which leads to increased participation in classroom activities.
Goes beyond identification and referral by helping students deal with the stress while they are in the school setting.
Identifies students experiencing traumatic stress and refers them to on-site clinical services.
Experiences reduced student behavioral outbursts and out-of-classroom referrals.
Educates staff about trauma and how it relates to academic performance.
Results in reduced stress for students and staff.
Results in improved student and teacher feelings of satisfaction and safety.
The staff at DMS are committed to providing a quality education in a safe and secure environment, while focusing on student needs and helping students achieve academic success.