On this fall day, I look out my window to see Ranch kids playing flag football. The teams are co-ed and the kids appear to be enjoying a great deal of laughter. The gym teacher on the Fargo Ranch campus is a former Division I college football player. The kids listen to him, and they get great exercise.
Sometimes people are surprised at all the activities we provide for our kids (which we couldn't do without your awesome donor support). Our children are active on campus and in the community. They take field trips, volunteer, have jobs, and try new things like bowling or going to a movie. We've been asked, "Isn't letting them do all this stuff like some sort of reward?" "Shouldn't they be more serious in their treatment?"
These kids are with us because they have serious psychiatric and behavioral issues and we take a very intense approach to their healing. They work hard in therapy, in school, in occupational therapy, and in therapy and spiritual life groups. They work hard to communicate in healthy ways and to build relationships. We work hard to ensure that every step of their care is individualized and evidence-based.
But, please trust me when I tell you that these young people have had enough seriousness in their years to last a lifetime. Their psychiatric issues and related behaviors developed as a result of what they experienced. Nothing is more serious than a child enduring mental and physical and emotional abuse, neglect, hunger, and debasement. No child should learn how to live through those horrifying experiences.
Experiences, this time positive, are the best way to learn healthy behaviors. Trying out teamwork, sitting quietly so others can also enjoy a movie, using manners in a restaurant, and taking turns, all become more habitual and natural when practiced. When they are reinforced, those habits may even become fun. Once a child can adopt positive behaviors, they can recognize the importance of what they are doing to heal.
So, Mr. Olson just threw a long bomb that was not caught by anyone. But three kids are on the ground laughing... and healing.
Please keep our kids and staff in your prayers.
In His love,
Joy Ryan, President/CEO
Dakota Boys and Girls Ranch
---

Has your life been changed by the services you received at the Ranch? Did you learn to trust on the back of one of our Ranch horses? Were you able to provide for your family because of one of our thrift stores? Did you grow up with a bottle of Ranch Honey on the table?
Whether you are a donor, a Ranch graduate, or have shopped at our thrift stores, you have a story to tell. Click the link above to share how you have been impacted by Dakota Boys and Girls Ranch.
---
LEARN MORE ABOUT DAKOTA BOYS AND GIRLS RANCH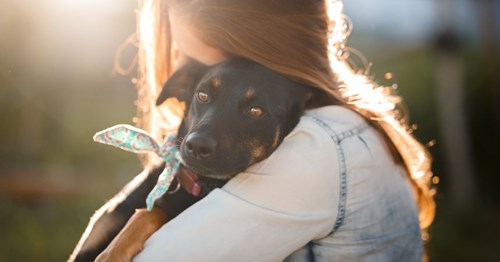 A baptism, a dog, and friendship
---
Sign up today to receive ministry updates and stories about our precious kids directly to your inbox!