This Thanksgiving, I hope you were able to enjoy the holiday with friends and family. Although the COVID yuck continues, we do have some more ability to gather and hug those we love. We come together for ample food, comradery, laughter, and football… and then more food.
One holiday tradition in a lot of homes is to go around the table and have each person share what they are thankful for. Common comments are about gratitude for family, good health, love, and friends. In general, most of us are so blessed, we could list a few hundred points of gratitude.
In my first year at the Ranch, I joined the Thanksgiving dinner at our Fargo Youth Home. The kids at the Fargo Youth Home are able to be successful in more of a community setting. The Home is in a residential area, and the kids sometimes attend public school or hold part-time jobs. At Thanksgiving time, the staff and kids prepare the whole traditional dinner… turkey, green-bean casserole, mashed potatoes, pumpkin pie, etc.
That first year I sat at a table with a highly autistic, yet high-functioning boy, who preferred to be called "Batman." He had been dealt a life full of being misunderstood, ridiculed, abused, and subjected to trauma. His birth family had long stepped away from him. However, a foster dad who was ready to welcome him in, and a friend who was living in that foster home, were there as his guests. Although there was no instruction to share what we were thankful for, Batman decided to offer an impromptu expression of thanks.
"I am thankful that I have this friend and this home to go to. One friend is really all you need. And these brownies are really good."
A child, who has endured so very much, had gratitude on his heart, and just had to share it.
I am thankful to be part of a place that cares for these precious kids.
I am thankful for God's blessings.
I am thankful for your prayers and support.
In His love,
Joy Ryan, President/CEO
Dakota Boys and Girls Ranch
---
Has your life been changed by services you received at the Ranch? Did you learn to trust on the back of one of our Ranch horses? Were you able to provide for your family because of one of our thrift stores? Did you grow up with a bottle of Ranch Honey on the table?
Whether you are a donor, a Ranch graduate, or have shopped at our thrift stores, you have a story to tell. Click the link above to share how you have been impacted by Dakota Boys and Girls Ranch.
---
LEARN MORE ABOUT DAKOTA BOYS AND GIRLS RANCH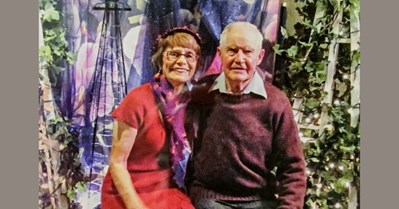 Caring for Others Brings Great Joy
---
To receive ministry updates and stories about our precious kids directly to your inbox, sign up here!