While the education, therapy, treatment, psychiatric services, wellness, and spiritual life activities take center stage at the Ranch, a lot goes on behind the scenes.
Think about the wear and tear that happens in every home, especially homes with children. Now think about bringing 20, 40, or 70 kids (depending on the campus) into your home—kids who struggle with anger and expressing their feelings due to abuse, neglect, and/or psychiatric challenges. Imagine the work that goes into maintaining the spaces where these kids live, eat, learn, sleep, and play.
Across the Ranch's three campuses, a 28-person facilities team works quietly and efficiently to maintain the buildings, feed the kids, provide clean and sanitary spaces, take care of the grounds, and so much more. According to Dr. Wayne Martinsen, Ranch Psychiatrist and Medical Director, their work is vital to the healing of Ranch kids.
"We have some angry kids, and they break things," Martinsen said. "Repairing the damages quickly makes a huge difference in how these kids feel. A lot of our kids have lived in homes where people lost control and would throw things, break things, and punch holes in the walls. The more we can have an environment that doesn't display the evidence of that, the better."
Also important are the outdoor spaces on Ranch campuses, which are maintained by the facilities staff. "Nature and the outdoors can have a significant calming effect," Martinsen said. "The more exposure kids have to green spaces, the better."
According to Mike McCloud, Director of Facilities for all three campuses, the groundskeepers, carpenters, mechanics, housekeepers, cooks, and janitors all know they are at the Ranch to support the children.
"Everything we do is for the kids," McCloud said. "Whether it's food to feed them, transportation to get them somewhere, or keeping the conditions safe, it's all about creating an environment for these kids that is as home-like as possible."
Read on to learn about a few of the people who make it all possible.
Denise Watson, Cook, Bismarck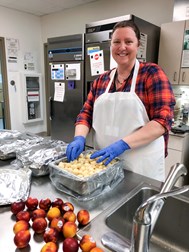 Through her cooking, Denise Watson tries to make the Ranch a little more like home. And the kids notice.
"When I first started," Denise said, "we were making a new menu and I suggested a Spanish rice hotdish. The first time I made it, one of the kids was so excited and said, 'My grandma makes this, and I feel like I'm at home.' That is when I knew I was in the right job."
A few months ago, one of the girls left a thank you note on Denise's desk thanking her for letting the kids make pancakes in the morning—because it felt a little more like home.
"It's just those little things, the simple things we do, but they make a difference."
Denise, who has been at the Ranch for six years, knows the kids aren't all going to love everything she makes, but she does her best to adjust the menus to what the kids will eat. "Sometimes they won't want to try something because they haven't had it before. I encourage them to try just a bite and if they don't like it, I'll make them a sandwich. Most of them will try it."
"When I was growing up," Denise said, "it was 'eat what I cook or go hungry.' We don't do that to the kids here. We want them to eat."
When asked about Ranch kids, Denise recalls a young girl who was having a rough time and threatening to take her life. One night after work, Denise stopped at the cottage to say goodbye to the kids, and this young girl was really struggling.
"When I sat down with her, she told me that nobody loved her and no one would miss her if she were gone. I said, 'Well, I love you. I love all the kids here.' I honestly don't think she had ever heard those words before. After that her whole demeanor changed. She started calling me mom and was happy and smiling. I'm not saying I was responsible for this, but she discharged successfully a few weeks later. That will stick out in my mind forever."
Denise had some health issues a couple years ago and spent over two months in the hospital. She has been inspired by how Ranch staff from every level of the organization have shown up for her. The Bismarck staff set up a blood drive in her honor and have since held one every six months or so. Leadership staff visited her in the hospital and brought her a quilt.
She said, "I've worked in larger companies and smaller companies, and none of them recognize their staff that way."
Denise loves her job. "I love to cook, and I love interacting with the kids. Working as a cook at the Ranch is perfect for me because I get to do both."
Outside of work, Denise spends a lot of time with friends and family, picnicking and playing games. She is also an animal lover and right now shares her home with two cats and two dogs.
Denise now works as a member of the Mission Advancement Team as a Development Officer.
Don Boger, Housekeeper, Minot
Don Boger has held a variety of positions in his 34 years at Dakota Boys and Girls Ranch. He started at the Minot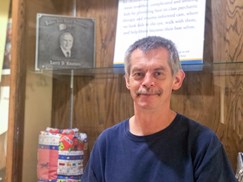 Thrift Store when his neighbor asked him to work a few days before the store opened—and never left. He has worked as a driver's assistant, driver, and warehouse manager; and now works overnights as a housekeeper on the Minot campus.
Over the years, Don, a slight, gentle, hard-working, and soft-spoken man, has had the opportunity to work with a few Ranch kids. One that sticks out in his mind worked at the warehouse one summer. The young man's first day didn't go very well.
"I must say, it was probably my worst day," Don said. "It was probably his worst day too. He didn't want to do anything. But he came back the next day and he was 100 percent better, as long as he was working with me."
Don said after that disastrous first day, the young man became one of his best workers and they worked side-by-side much of the summer. "He didn't talk much at first and I told him that was OK. 'If you don't want to talk about anything, we won't That is your business, your life.' After I said that, he just went on and on about everything. I just listened while we did our work and you could tell he was getting more at ease with me; and happier."
Several years later, the young man came back to the warehouse and asked for Don. "He thanked me for what I did for him and for what the Ranch did. At that time, he had a good job and was doing well. That just brightened my day."
Cleaning is a never-ending job. "Sometimes you mop and vacuum and an hour later you come back and it doesn't look like you did anything. But I know people appreciate my work—they tell me they miss me when I'm gone. I had a small stroke earlier this year and when I came back, I felt real appreciated. The Ranch has been really good to me."
In addition to supportive co-workers, Don said he has great bosses at the Ranch. "Dalen, my current boss, is flexible and just an all-around good guy to work for. It makes my job a lot nicer when you have nice people to work for."
As for the kids, when a child makes a mess of something he just cleaned, Don said he thinks to himself, "Everybody has troubles. Everybody deals with their problems in a different way. They had a bad day. Tomorrow is going to be a better day. You gotta have a positive attitude or you won't make it here."
When he's not working, Don likes working in his yard, going for walks and bike rides, and spending time with his family. His sister and father both live in Minot—the three of them live within five blocks of each other—so they spend a lot of time together. He also enjoys visiting his brother in Bismarck and spending time with his other sister when she visits from Florida.
"I'm happy here," Don said. "The Ranch is like a second home to me. This place is just beautiful. I love it here. I love what I do."
Dan Sexton, Maintenance Technician, Minot
Dan Sexton has been at the Ranch about 18 months. In his role as a maintenance technician on the Minot campus, Dan does a lot of building repairs and remodeling of the campus's 22 buildings.
Over the past year he has helped remodel the chapel bathrooms, the portable classroom, and the foundation office, as well as spent time in the resident cottages.
"I'm in the cottages every day. There is always something going on, whether it's an alarm or a doorknob or a hole in the wall."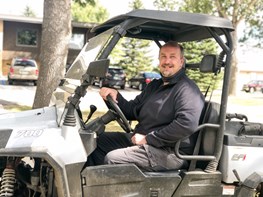 Dan is also the self-proclaimed "safety guru" for the Minot campus.
"I go around and check the smoke alarms and the fire extinguishers to make sure they all work. Really everything we do is about safety. We keep the facilities safe for the residents and the staff. Safety is a top priority. And we maintain the buildings, instead of letting everything just crumble."
Dan and his wife, Tara, who also works at the Ranch, were born and raised in Minnesota. Dan learned construction and repair skills years ago when he worked at a resort.
"I got in with a good crew there and worked with them about 10 years. I'd get with one guy and learn some plumbing, then the next day I'd get with another guy and do electrical. Another guy liked to tinker with things so I'd watch him take things apart and put them back together. And then you're always fixing something at home. When something breaks, I want to be able to fix it."
Dan and Tara moved to Minot when Dan got a job on the railroad. After a few years as an engine operator, he got laid off and Tara, who was already working at the Ranch, encouraged him to apply for an opening.
Dan already knew about the Ranch through Tara, so it wasn't a surprise when he was told at his interview that he might repair a whole room and come back the next day to do it all over again. "They told me it wouldn't be because I messed up or did a bad job, but that's just the type of place this is. It doesn't happen all the time, but it does happen. The kids get rambunctious and stuff happens.
Dan doesn't have much one-on-one contact with Ranch kids, but he does try to set a good example. "I try to say 'hi,'—and with COVID, I keep my mask on hand stay six feet away. I'm always driving the speed limit through the parking lot."
He recalls one young man who has at the Ranch a year or so ago. "He was good with the younger kids. A lot of the other kids looked up to him and it seemed like while he was here, the destruction was down. If one of the kids was going off towards another kid, he would step in and be like, 'No, you're not going to do this today.' He was just an all-around good kid."
Dan enjoys fishing, camping, and golfing with his wife, Tara. They have four dogs and two cats that keep them busy. And he is happy at the Ranch.
"I like the work, and I feel appreciated here. I know my work matters because it's all about keeping everyone safe."
Bryan Fern, Facilities Manager, Fargo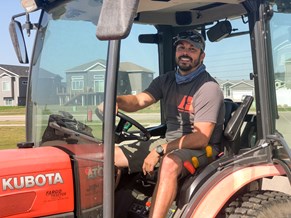 Bryan Fern's many jobs over the years have all come together to prepare him for the Facilities Manager position at the Ranch. He managed apartments—now he manages an entire facility. He cooked and served tables—now he manages the kitchen staff. He's done mechanic work—now he makes sure the Fargo fleet of Ranch vehicles are maintained and road-safe.
In addition, Bryan and his staff clean the buildings, mow the lawn, plow and shovel snow, manage any on-campus construction projects, maintain the landscaping, make building repairs, change lightbulbs, and put ice melt on the sidewalk so kids and staff stay safe.
He is also the campus safety manager, which consists of holding monthly safety team meetings, problem-solving any near-miss safety incidents, and tracking the cleaning supplies and chemicals (which must all be documented and stored in locked cabinets).
It's a big job, but Bryan is confident in his team to get the job done. "My staff are amazing. I have a lot of great people around me."
While Bryan likes the work, that's not the only reason he stays at the Ranch. For him, it's all about the kids. "It's nice to feel like you are doing something. When a kid comes in, I like to be there the first day to introduce myself. Once you develop that little bit of relationship, you can work from there to make sure they respect what you are doing."
Agency Facilities Director, Mike McCloud, said the kids in Fargo know and respect Bryan, which has allowed him to de-escalate several situations. "One of the kids had something in his hand and was damaging something. Bryan just walked up and calmly spoke to the young man, and asked, 'Can I have that?' He just handed it to Bryan." 
Still, making peace with the destruction kids do when they are in a bad place is hard. Bryan said a lot of times they joke about it. "We say that the kids didn't like the way we fixed that, or they decided that light wasn't in the right position."
Sometimes, with the permission of their treatment team, Bryan has enlisted a child to help fix what they broke. "One boy kicked a hole in the wall, so I said, 'Let's go fix it.' When they see the work it takes to fix it, they tend to take more ownership."
Bryan said the Ranch is different than anywhere else he has worked. "If you make a mistake, everybody tries to learn from it and move past it. There is a lot of understanding."
Bryan keeps pretty busy in his spare time too. He and his two young boys like to bike, go to parks, camp, fish, and play video games. On his own, he kayaks, golfs, and rides motorcycle.
Scott Westman, Maintenance Lead, Minot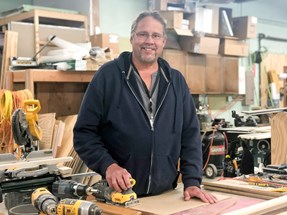 Scott Westman has a special tie to the Ranch. In addition to working in Ranch Facilities for nearly 20 years, he experienced the Ranch as a parent when his son lived on campus.
"We had a lot of issues with our son, starting when he was in third grade. He screamed and yelled and nothing was his fault. It got worse as he got older, and when he was in 8th grade, he spent a year at the Ranch.
Scott said being at the Ranch really helped his son and his family. "We could talk with Dr. Martinsen about how to talk to our son and how to call [our son] on things. He graduated from high school and now has a full-time job. He is doing OK," Scott said.
That special tie, along with his love of the work, makes the Ranch a perfect work home for Scott, a tall man who is quick to smile and always calm.
"I enjoy what I do. You're not doing the same things all the time and I like the maintenance end of it. I like the challenge of fixing and building things. You get things done and people tell you how nice it looks. And my boss, Dalen, appreciates us. We also get appreciate from the kids—like when a kid sends a note thanking us for fixing something they broke."
Scott knows the work he does here makes a difference. "We are keeping things together and safe for the kids we serve. If we weren't around, there would probably be huge safety issues. The kids break things because they are so angry, but I've always said, that's job security. You go and repair it and make it stronger."
Working at the Ranch is different than anywhere else because of the precautions facilities staff have to take every day. "You can't just walk away and come back after lunch or the next day. To keep the kids safe, we pick up everything whenever we walk away. You come back and have to set up your tools again."
Scott says the kids have changed since he started 20 years ago. "It seems like the kids are more troubled now."
Scott was born and raised in Sawyer, ND, and now lives south of Velva, ND. He enjoys working in his yard and gardening, as well as fixing and building things. "I'm not a town person. I have my garden and my dogs, and pretty much just stay around home."
Tara Sexton, Facility Support, Minot
Tara Sexton knew the Ranch was a different kind of workplace from the beginning.
"I noticed right away that everyone is trying to do a good job and do right for the kids," she said. "I appreciate the opportunity to work for such a great place. Everybody deals with hardships and things happen, but it's a real strong Ranch family. We stick together and do really good things for kids. And they need it."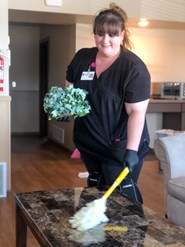 Tara prides herself on keeping things clean and presentable. And she appreciates when the kids and other Ranch staff notice. "People are always telling me I'm doing a good job. Even the kiddos. When I clean their bathrooms, they thank me. Or when I spray air freshener, they're like, 'Oh, and you're making it smell really good.'"
"My work matters because it's about keeping things clean and healthy," Tara said. "Some of these kids haven't lived anywhere that's been clean."
The work isn't always easy. Some days Tara cleans or fixes something, goes home, and comes back the next day to a mess.
"The way I make peace with that is that we all have to be role models," Tara said. "Marching back in there and fixing something again shows determination and strength—we are determined to make a safe, clean, and special living environment for these kids. We're not going to throw up our hands and give up. We are showing them how to be adults themselves someday."
In addition to cleaning cottage bathrooms and the Family Living Unit (apartments where families can stay when they visit), Tara does laundry, chairs the safety team, and puts together welcome baskets for new residents.
She puts a little special effort into each job, for instance, adding special touches to make the Family Living Unit apartments cozy and comfortable, and picking out fun Welcome Basket items.
"The Welcome Baskets have two towels, two washcloths, sheets, a pillow, a pillowcase, and a quilt. I try to make them fun. The other day I found sheets with video game controllers for the boys and unicorns for the girls. I try to not be too boring."
Tara said she doesn't have the skills, training, or temperament to work with the kids all day, but she loves that she can use her skills to impact their lives.
"One gal awhile back would come up behind me and clear her throat when she wanted to get my attention. I would turn around and say, 'Yes, little miss. What can I do for you?' She just wanted to connect. One time she handed me a picture she'd drawn and said, "I made this for you and want you to keep it.' I have it hanging in my office. Another time she wrote me a note thanking me for cleaning her bathroom. The little moments of connection make the job awesome."
Tara and her husband, Dan, who also works at Dakota Boys and Girls Ranch, enjoy video games, camping, fishing, golfing, and spending time with their four dogs and two cats. They both grew up in Minnesota and moved to western North Dakota when Dan got a job working on the railroad.
"Now this is home. It's good. We found good jobs and we get to carpool!"
______________________________________
In addition to the cooking, cleaning, gardening, repairing, and remodeling everyone talked about above, facilities staff also take care of the greenhouses (three in Minot and one in Bismarck), bale hay on the Minot campus to feed the horses, and process and bottle nearly 14,000 bottles of honey used for Honey Sunday and Ranch donors each year.
And, as Mike McCloud said, it's all to support the kids.
"We do everything we can to make this place feel as home-like and inviting as possible. Coming into an institution isn't easy for these kids," he said. "We want them to feel safe, secure, fed, and comfortable."
With a lot of hard work and hearts full of love, they do just that.
This article was originally published in Ranch Voice: Winter 2020.
---
Join the Ranch team and make a difference in the lives of the amazing children we serve.