One of the great tenets of working with trauma survivors is, "Never ask what is wrong with the child. Instead, ask what happened to the child." A child who has survived trauma will have developed ways to survive. Once they are out of the painful situation, they still rely on those maladaptive skills. The anger, violence, and fear many Dakota Boys and Ranch kids display are learned coping responses to abnormal situations. Just as an animal that is tortured will strike out in fear and aggression, so can a child.
 
Chaplain Rick Jones, VP of Spiritual Life at the Ranch sends a daily devotion to staff and board members that is a touchstone for many of us. I wanted to share this particular one with you. Although written for people who work here, it takes the psychology of trauma response, which I compressed above, and looks at it through the lens of Christ's love. Amazingly, the message is the same. 
"Therefore, if anyone is in Christ, the new creation has come: The old has gone, the new is here! All this is from God, who reconciled us to himself through Christ and gave us the ministry of reconciliation: that God was reconciling the world to himself in Christ, not counting people's sins against them. And he has committed to us the message of reconciliation. We are therefore Christ's ambassadors, as though God were making his appeal through us. We implore you on Christ's behalf: Be reconciled to God. God made him who had no sin to be sin for us so that in him we might become the righteousness of God. —2 Corinthians 5:17-21
What do you see when you look at the children we serve at Dakota Boys and Girls Ranch? Do you see a criminal? Do you see a delinquent? Do you see another messed-up kid? You shouldn't. We should not let any of the mistakes or hardships of anyone's past impact our impression of them. As we strive to help at-risk children and their families succeed in the name of Christ, we apply Paul's words from 2 Corinthians. We do not regard them according to the mistakes of their past. We are trying to bring them success in the name of Christ. And as Paul informs us, if anyone is in Christ, they are a new creation. The old has gone, the new has come! Our efforts in caring for our residents are not motivated by what brought them to the Ranch. Instead, our work is to view them with the potential they now have in Christ. We help them overcome the past by presenting them with the reconciliation available to us all in Christ Jesus. We help them reconcile the mistakes of the past with the hope for a future filled with success. 

If anyone is in Christ, the new creation has come: The old has gone, the new is here!
Prayer:
Heavenly Father, all people have regrets and mistakes in their past. Please do not let my past haunt me but remind me that you have forgiven me and reconciled me to yourself in your Son, Jesus Christ. Likewise, as you do not hold my past against me, help me not to hold the pasts of others against them. Help me to see them as your children, forgiven and redeemed by your grace. Guide me to treat everyone with the mercy and love of Jesus, in whose name I pray. Amen."

It is a blessing to work alongside Chaplain Rick.

Please pray for our children and staff.
In His love,
Joy Ryan, President/CEO
Dakota Boys and Girls Ranch
---

Has your life been changed by the services you received at the Ranch? Did you learn to trust on the back of one of our Ranch horses? Were you able to provide for your family because of one of our thrift stores? Did you grow up with a bottle of Ranch Honey on the table?
Whether you are a donor, a Ranch graduate, or have shopped at our thrift stores, you have a story to tell. Click the link above to share how you have been impacted by Dakota Boys and Girls Ranch.
---
LEARN MORE ABOUT DAKOTA BOYS AND GIRLS RANCH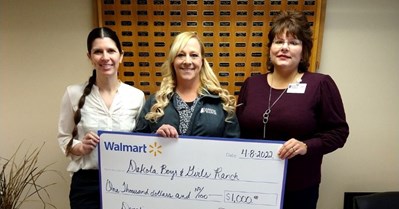 Walmart—Minot Grants $1,000 to the Ranch
---
Sign up today to receive ministry updates and stories about our precious kids directly to your inbox!