Many of the children who come to Dakota Boys and Girls Ranch have not lived with both their biological parents, or either of them, for many years. The children have been in foster care, with relatives, in an adoptive home, or with a single parent. They have been removed from the situation and/or people that caused them trauma. The behaviors and mental illness created by the trauma are now left for the child and their caregivers to navigate.
It is brave to foster or adopt a child who has experienced great trauma.
We are often told that a child needs "just one caring adult" in their lives. For children with trauma histories, that has not been my experience. These kids have learned to push everyone away. They know anyone close to them can hurt them, again. These children will need that "one caring adult," a compassionate school system, medical providers who understand the impact of trauma on physical health, great medication management, really good therapists, and people surrounding the "one caring adult" to provide respite and resources, and faith leaders they can relate to, and very likely, dental work, occupational therapy, and good peer support.
And remember, this is all for a child who is pushing away everyone who wants to help. It is exhausting.
I recently finished reading, "The Ghost Garden," by Susan Doherty. One of our wonderful Ranch friends, Carol Townsend, recommended it to me. Doherty spent 10 years volunteering in a psychiatric hospital in Canada. She developed special relationships with many of the patients and found herself wanting to tell the stories of the folks living with schizophrenia. Although very gritty and explicit about severe schizophrenia, it is a good book. It's not for the faint-hearted, but I am glad I read it. I am sure psychiatrists could argue all day about some of her assertions as a layperson, but I think she tried to explain things in a way that non-professionals could grasp. She has great respect for both the patients and the psychiatrists she calls "truth-seeking heroes."
The underlying story in the book is about "Caroline," a woman living with schizophrenia. Caroline came from a family of 10. Her parents and 9 siblings all engaged with her in different ways. Some had caused her trauma. Some were indifferent. Some were casual. Some actively pushed her away. Three of her sisters spent their entire lives trying to support her and care for her. As Doherty explains how Caroline's sisters rallied around her for the seemingly thousandth time, one particular phrase stands out. She writes, "Being the caretaker of another person's mind is daunting."
How true. In Caroline's case, that caretaking has been for her entire life.
For the remarkable people who step up to create a family for these precious children, we hope that their caretaking leads to continued healing. And that that continued healing leads to these children finding and becoming their best selves… able to be their own caretakers.
That's my prayer for all children.
In His love,
Joy Ryan, President/CEO
Dakota Boys and Girls Ranch
---

Has your life been changed by services you received at the Ranch? Did you learn to trust on the back of one of our Ranch horses? Were you able to provide for your family because of one of our thrift stores? Did you grow up with a bottle of Ranch Honey on the table?
Whether you are a donor, a Ranch graduate, or have shopped at our thrift stores, you have a story to tell. Click the link above to share how you have been impacted by Dakota Boys and Girls Ranch.
---
LEARN MORE ABOUT DAKOTA BOYS AND GIRLS RANCH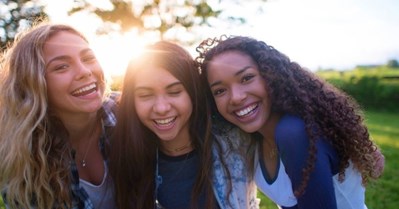 Aspiring. Future-oriented. Hopeful.
---
Sign up today to receive ministry updates and stories about our precious kids directly to your inbox!