Yesterday at lunch I sat down next to a child I hadn't met as he has only been with us for five days. He's a handsome child—dark eyes, dark hair, those kinds of gangly limbs kids get in their teenage years. He looked at me through too-long bangs.
First, we talked about the lunch… which was really good. We had salad and noodles and hamburger stroganoff and cooked carrots. Then we talked about music and settling in, and we visited with the other kids and staff around the table. One of the kids is quite a joke teller and had to get in a few new ones he had just learned… truly bad, but funny, puns.
Then I asked him if he had any brothers and sisters. I have learned that often children who have endured a lot are very close to their siblings and want to talk about them. They have been through "trauma bonding" together and care very much about each other. Right away this boy smiled and said "Yes, I have four younger brothers. They're pretty OK."
"That's great," I said. "Do you have sisters?"
"Yes." Then he paused, "I really don't know how many."
I smiled as reassuringly as I could and went back to talking about music. He didn't need to tell me anymore.
This child comes to us from a situation so stretched and disorganized and chaotic that a smart, articulate, teenager doesn't know the number of siblings he has. The trauma and insecurity that implies certainly produced his behaviors, fear, and distrust.
Just think about it for yourself for a minute. Close your eyes and imagine being asked how many siblings you have, and honestly answering "I really don't know." It causes pain when I try it. My siblings are treasures in my life.
These kids are so strong and such survivors. They are my heroes. They are given great mountains to climb, and they set out to climb them. They overcome.
Please keep our kids and staff in your prayers.
In His love,
Joy Ryan, President/CEO
Dakota Boys and Girls Ranch
---

Has your life been changed by the services you received at the Ranch? Did you learn to trust on the back of one of our Ranch horses? Were you able to provide for your family because of one of our thrift stores? Did you grow up with a bottle of Ranch Honey on the table?
Whether you are a donor, a Ranch graduate, or have shopped at our thrift stores, you have a story to tell. Click the link above to share how you have been impacted by Dakota Boys and Girls Ranch.
---
LEARN MORE ABOUT DAKOTA BOYS AND GIRLS RANCH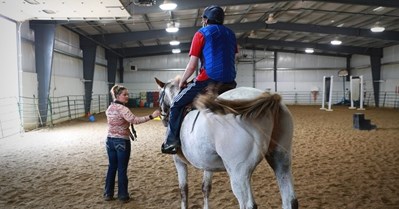 Verendrye Electric Awards $2,500 to the Ranch
---
Sign up today to receive ministry updates and stories about our precious kids directly to your inbox!