I was recently visiting with a teenage boy who is in our care. He has been in some form of foster care his entire life. Some families have been good. Some of his families have been, in his words, "really, really wrong." He gets mad sometimes, but most of the time he likes people. His favorite animals are dogs, and horses are next.
After school that day he had led a horse through an obstacle course, in his words, "because it teaches us trust and communication." He asked me if I like staying in the on-campus apartment, and if we had trouble hiring staff. (He had seen the "Hiring" signs on every business in town!) His arms are too long for his body. He has a full set of braces and he smiles and giggles a lot.
I am really worried about him. And the other children. All the children.
He has found help at Dakota Boys and Girls Ranch. He is facing his demons and is winning. But, what happens after Dakota Boys and Girls Ranch? Does our society value him, and each child, as a precious gift?
We know the pandemic caused an increase in domestic violence and a decrease in educational achievement.
We know that for all the blessings it brings, the internet can expose children and adults to the horrors and inhumanity of the world.
We know that social media, while connecting people, can become a place of hatred and derision for a child.
We know there is one true God, yet we embrace and chase thousands of golden calves as the children watch.
We know children are precious, yet they are the most preyed upon and traumatized of humankind.
We know kids want to be happy and are suffering from the highest rates of anxiety, depression, and suicidality in our history.
We know how to help children heal, yet we have set up systems that create barriers to care driven by finances cloaked as "efficiency."
It is easy for me, and perhaps you, to get caught spinning in these worries. They are so important, so big, and so societal. These concerns are pivotal in my work. And sometimes it is hard to not feel defeated.
In the midst of all these worries, I attended a meeting of remarkable faith leaders. A wise man stood up, and said, "It appears we have much to worry about in today's world. However, this is the world the Lord has given us to live in and care for… for my part I choose to be grateful and do all the good I can."

His words were exactly what I needed. They reminded/challenged me to be grateful, do my best, and leave the worries to God. 
Thank you for helping us do all the good we can.
In His love,
Joy Ryan, President/CEO
Dakota Boys and Girls Ranch
---

Send a message of hope to a child at the Ranch
Hope is a very powerful thing. For kids at Dakota Boys and Girls Ranch, hope can mean the difference between successful treatment and giving up on life. You can provide hope for our kids. Your message will let a boy or girl know that someone cares and wants them to succeed. It's easy to do and takes just a few minutes! Send a message of hope to a child at the Ranch by clicking on the link above.
---
LEARN MORE ABOUT DAKOTA BOYS AND GIRLS RANCH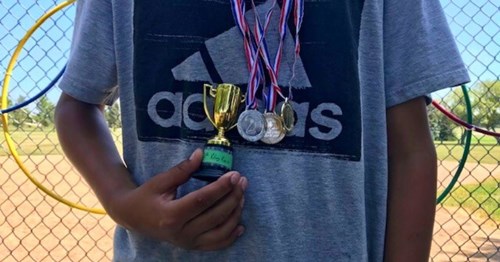 The Olympics at Dakota Boys and Girls Ranch
---
Sign up today to receive ministry updates and stories about our precious kids directly to your inbox!